How can I download the Theme That I Purchased?
ERROR CODE:PE101 during Payment?
This is a common question we face everyday. D5 Creation is a Membership Based Site. So, when the Membership updates users can download the Themes as per their Entitlements.
You may know that we don't process any payment within Our Site. We use secure, encrypted, SSL 2checkout.com Payment Method.
2CHECKOUT.COM checks the FRAUD STATUS. This process may take several minutes. This is done to ensure your security so that no unauthorized person can use your payment method. After Passing the FRAUD STATUS successfully the membership changes automatically. This may take 1 to 5 minutes. You should wait up to 20 minutes after Payment Submission. But, we strongly believe that it will take 1 to 5 minutes if everything be alright. If your Membership Status remains FREE you should Contact Us. You can check your Membership Status from Your Profile.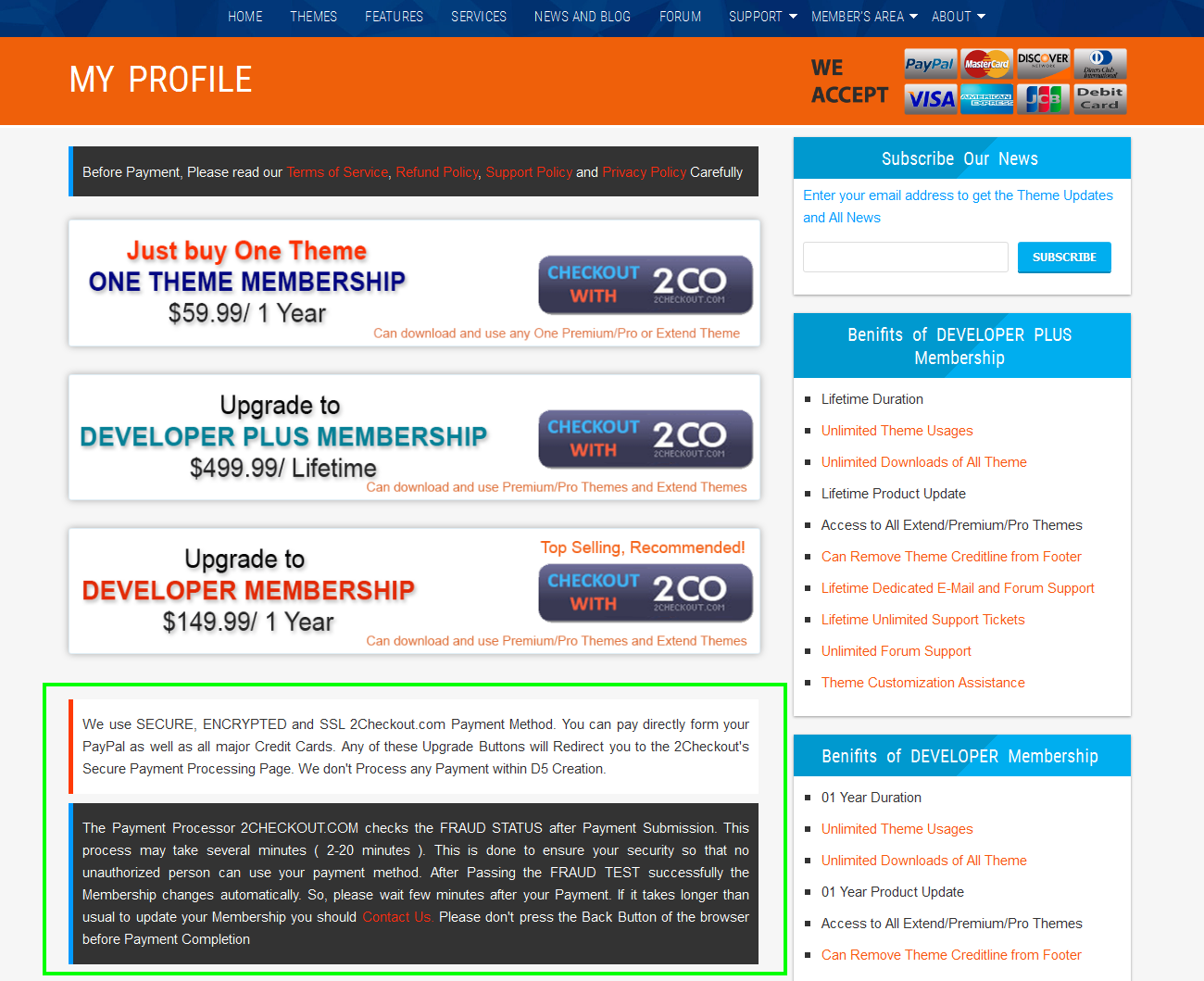 We have informed our Users about the 1 to 20 minutes time period of Membership Updating. You can find the notice in Your Profile Page before Membership Updating.
After Upgrading your Membership Level to ONE THEME/ DEVELOPER/ DEVELOPER PLUS you can download Your Desired Theme/s from the Specific Theme Page/s. Before that you need to Log In to D5 Creation with your ID and Password if you are not already logged in. Don't worry, most of the time you need not do anything for this Error. Wait few minutes and see your Membership will Change automatically or not.
Sometimes, some users may find the ERROR CODE:PE101. Normally This Error appears during the Payment. You should not click the Back Button of your Browser after Payment Submission to avoid the ERROR. This Error doesn't mean that Your Payment was not Submitted. If you receive a Sales Receipt in your E-Mail within 2/3 minutes, that means Your Payment was Submitted and you should wait few more minutes for the Membership Confirmation E-Mail