Simplicity! Where Everything is Unlimited!
Unlimited Slides! Unlimited Featured Images! Unlimited Client Logos! Unlimited Testimonials! Responsive! E-Commerce Ready! WooCommerce Ready!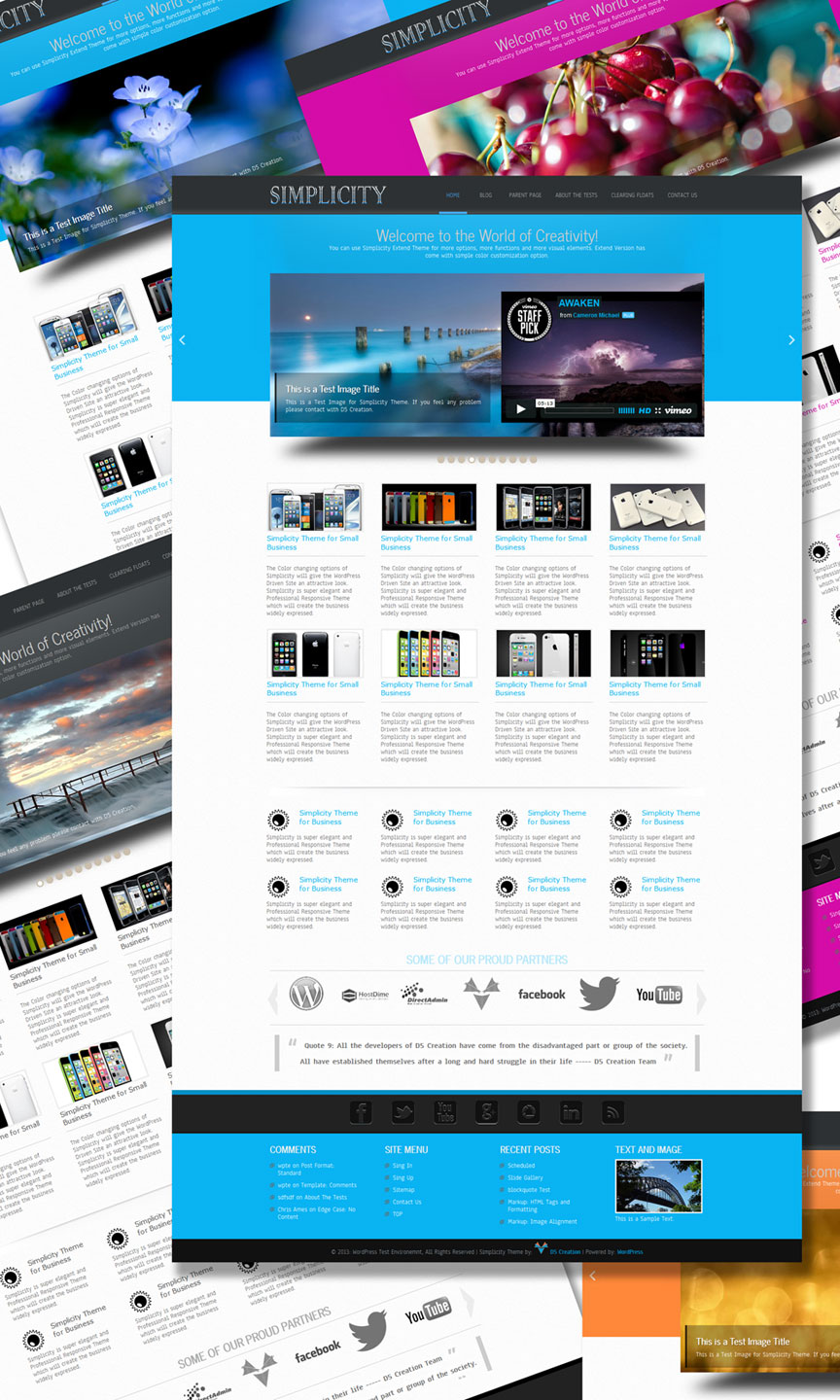 Simplicity is a CSS3 Powered and WordPress 3.5 Ready Theme for Business Companies. Simplicity has 3D Slide with UNLIMITED Slide Images/Items/Videos. Color Customization Option of Simplicity Extend will give you Extra Fun to develop your Site with any Colors. Simplicity is super elegant and Professional Theme which will be adjusted automatically with all smart devices. Unlimited Featured Boxes, Client Icons, Testimonials will provide you New Experience! Right and Footer Sidebar will be usable for showing the widgets. Full Wide Template can be used for showing showcase or other pages. Simplicity Extend is E-Commerce Ready by WooCommerce! You can Visit the Simplicity Demo Here.
Features:
User Friendly 100+ Extra Theme Options
Three Site Layout. Full Width, Left Sidebar or Right Sidebar Option
E-Commerce Ready! WooCommerce Ready!
Stylish and Smart Sliding Image, 1 to Unlimited with or without Titles, Captions, HTML etc.
Fully jQuery Slider! No Flash Needed!
Exciting 3D Slide, Image, Video Sliding Options
VIDEO or EMBED HTML Adding Functionality instead/with of Sliding Image, NEW
Slide Control, Slide Size, Navigation, Slide Speed, Number of Strips setting Options
Two Rows of Featured Box Images, Featured Contents, Heading and Text with LINKS. You can set Unlimited Featured Boxes
Easy Translation Option from Theme Options, Your site in more Languages! NEW!
Logo and Favicon Inserter Option
Videos, Iframe, HTML etc. Showing Facilities within the Featured Boxes NEW
Easy Theme Color Customization Option.
Font Size, Font Face, Font Color Customization Options for Page/Post Title, Body, Heading etc…
Site-wide Comments Box Disabled Option! Complete CMS Theme! Exciting!
Disable Option of Logged In User Admin Bar
Site Logo and Url can be displayed in Login Page, Own Branding!
Client or Partner List Customization, Sliding Logos. Unlimited Entries!
Author, Date, Tag, Category etc. Meta Tags can be disabled easily! Pure CMS Theme!
Second Row of Featured Boxes' can be shown as the same design of the First Row of Featured Boxes!New!
Social Media Integration Options, More Icons, More Visibility, More Expression
Sliding Customer Testimonials, Custom Quotations. Unlimited Entries! NEW
Google Analytics Code, Custom CSS and Scripts Inserted
Customization of Copyright Notice and Sitemap
Hiding options for Theme Credit to D5 Creation and WordPress
Number of Footer Widget Setting Option
Client or Partner List Link Adding Options
Posts/Page display options in Front Page
PSD Files Included
Dedicated Support
And More… Seeing is Believing…