D5 Smartia, a Comprehensive Theme for Smart Blogs, Simple is the Best
"Attention to the Users!"
The 1.6 Version was uploaded to the server. This version requires WordPress 3.4 for running. Please upgrade your version downloading from this place. We also submitted to the WordPress Repository for their Approval. This version has been fixed a major bug for Image code inserting within Ad Codes. The " symbol was changed to /". This bug has been fixed in this version. Please Remember that You must upgrade your WordPress Version to 3.4 before updating D5 Smartia 1.6
D5 Creation is proudly announcing the Second Professional theme D5 SMRTIA for SMART Bloggers with AdSense Ready.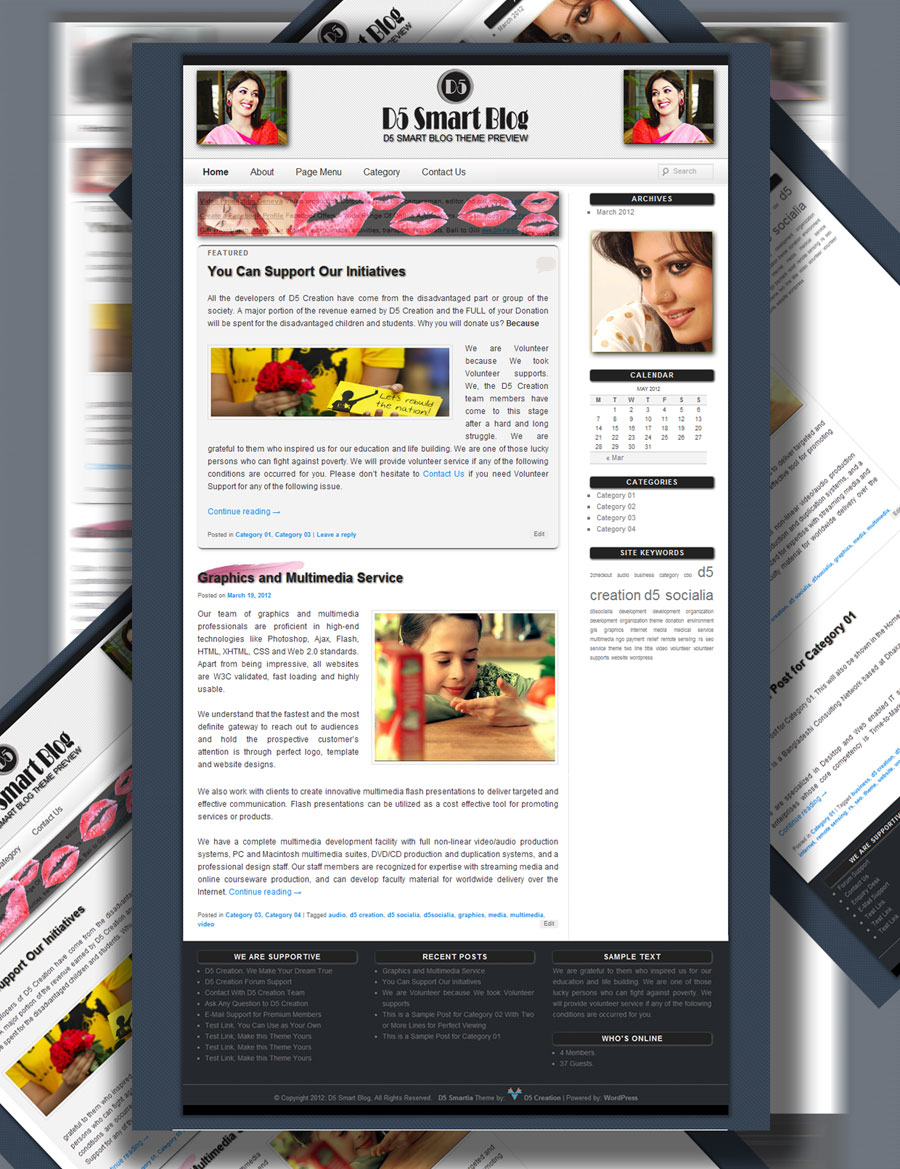 The D5 Smartia Theme for WordPress is sophisticated, lightweight, and adaptable. It is Simple and Simple is the Best. Make it yours with a custom menu,custom logo, and other custom features. D5 Smartia comes equipped with a Showcase page template that transforms your front page into a showcase to show off your best content, widget support galore (sidebar, three footer areas, and a Showcase page widget area), and a custom "Ephemera" widget to display your Aside, Link, Quote, or Status posts. Included are styles for print and for the admin editor, support for featured images (as custom header images on posts and pages and as large images on featured "sticky" posts), and special styles for six different post formats. You can use D5 Smartia for Black and White looking Smart Blogging. This Theme is Google AdSense Ready. So you can put your ad codes in 3 places and can earn money from Online. So, Lets Enjoy the D5 Smartia Theme if you are a SMART Blogger.
Main Features are:
Sophisticated, Lightweight, and Adaptable
Google AdSense Ready
03 Ad Unites of 180X150, 250X250, 728X90
Earn Money from Online
Widgets Ready, Sidebar & Footer
Theme Options, Custom Logo, Header Code Inserting
Google Analytics Ready
Best for Simplicity
No Extra Options Needed, All are Built In
Custom Menu
Custom "Ephemera" Widget
Support for Featured Images
Featured "Sticky" Posts
Two Columns
Right and Footer Sidebar
Bangla Font Ready
EXCITING DISCOUNT for Limited Time for all Membership. Save 20%. Click the Image and Read Details.
You may like the D5 Socialia PRO Theme. Click the Image and Read Details.

Win FREE STARTER Membership! Limited Time Offers!