Top 9 WordPress Web Development Trends to follow in 2019
There are more than 1.8 billion active websites on the Internet, and more than one-third of them are powered by WordPress. This only fact figure is enough to know about the popularity and usability of WordPress among all the CMS platforms. Undoubtedly, WordPress is the Queen of all the Content managing System resources! In this article you will learn on the latest WordPress Web Development Trends.
2019, is yet another technical years and we are going to see hundreds of new websites powered by WP system. But nowadays the taste of the users is changing abruptly. It's really necessary to know your audience and their requirements before you should be presenting a website and its service before them.
Say whatever, but WordPress is still the most attractive platform for the beginner websites and the most powerful ones too. So if you are making plans to create a new website, then you should also know the latest WP know-hows and trends. The best WordPress web development trends will definitely help you to create a unique and powerful website.
And you need not go anywhere else, find your best 9 WordPress web designing trends here -
1. Video Headers
Technology alert!! The video headers are a hot trend to follow while creating your dream website. Videos represent the most influential content and reach the users understanding criteria directly. They are a guaranteed idea for more user engagement and boosting up your online business. Undoubtedly, Video headers are the number one trending web designing trend to must-on use while creating any business website.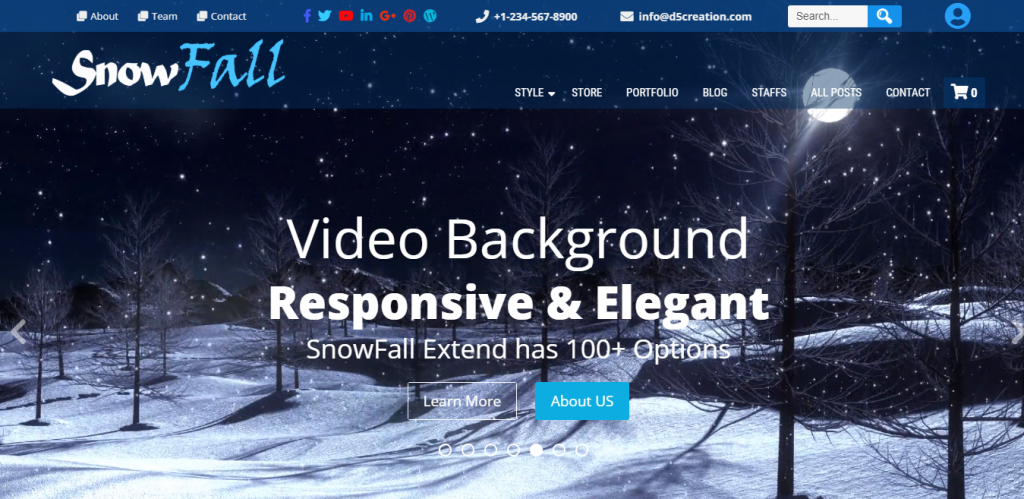 2. Mobile First
The number of mobile and smartphone users is increasing at a rate of 10% per year. Creating a website which could be absolutely mobile responsive is worth the deal at these figures. No doubt there are computer systems too, but smartphones are equally important and is used by the masses. So, keeping the Mobile first ideology will count gold for your business! Your website must be equally precise and easily readable in the smartphones, mobiles...Just like the Desktop.
3. Drag & Drop Themes
Though WordPress offers the most influential basic layouts and themes, the customized ones are also worth a try. Last year has seen a massive increase in the use of Drag & Drop theme or website creation. This theme allows users to create and customize websites without any code. So, even if you aren't a programmer or developer still you can manage to start things off with Drag & Drop theme. And this all will happen with your comfort and ease.
4. AR & VR technology
Augmented Reality (AR) and Virtual Reality (VR) are one of the most attractive trends to use while creating any business websites. WordPress fully supports the virtual reality content as well as 360-degree videos and images. VR applications have set the internet on fire and will be gaining even more popularity in 2019. Also, if your website is video or photo-based, then the VR and AR technology will be of your best technical help.
5. E-Commerce
Nowadays, e-commerce is becoming an unavoidable term to keep it away from the website configuration and functionality. WooCommerce is the most popular WordPress plugin, and e-commerce makes up a large portion of WordPress website with it. Using the new WordPress themes, you can easily create a powerful, and safe e-commerce configuration system. You can address e-commerce trends like mobile shopping, subscription-based services, personalized shopping, etc.
6. Animation
Starting with the flash based website animation, the internet has reached a more vibrant and interactive form of animation technology via HTML5 and CSS3. The term 'Particle Animation' is also getting popular and has been used more on the websites. Using the animations you can easily provide more information to the users regarding your business. If you want to focus on giving in most of the information about your brand, and in a fun and entertaining way, the animation is what you want!
7. Content Management
Content has always been the Queen of website making, and always will be. No matter whatever creativity and technology you use, content always matters the most. You can't back on from creating high-quality content with perfect fit images, videos, animations, graphics, etc. So, whatever you like to have on your website, make sure that it is accompanied by a well-written content with full analysis. A classy Content writer can help you out in achieving the same!
8. WordPress Improvements
WordPress regularly updates its next versions with outstanding improvements and new functionalities. Every new version will be fixing the issues related to older versions. WordPress takes care of its user's concern related to configuring improvements in editing code, managing themes, managing themes, and easier customizations. As your business will grow, you would like to do certain changes and add-ons on the website, and WP improvements will allow you to do so.
9. Fashion Effects
Last but not least, adding a few fashion effects as per the website's requirements will make it a complete business website. These days, programmers are ruining their website's look with a lot of experiment. You should be knowing four golden terms of website visibility like Less is More, Simple, Authentic and Informal. So minimizing the combination with using the fascinating fashion effects will only lead your website to shine brighter among the others.
Bonus - Benefits of using WordPress!!
Following up the latest WordPress trends will be helping you out in many ways. Here I am describing some of the best benefits you'll be automatically having by using WordPress.
Powerful Website Designing - WordPress benefits its users to create the most powerful and secure websites they can. With the best security plugins and services, your website will remain out of the reach of cyber crimes.
Search Engine Optimization - WordPress is highly accessible to Search Engine Optimization strategies. All the SEO tactics presented by WordPress help your website to gain higher rankings in the search engine pages.
Powerful Plugins - As discussed earlier, there are over 50,000 different WordPress plugins available for users. These plugins assist in website making for enhanced user experience, in a secure way.
Easy Manipulation - You can create a whole new website without typing a single code! What can be a better example to explain the easy to manage WordPress features?? Definitely nothing.
Quick Installation - Only using WordPress isn't easy, but installing it is also as easy. It's simple to install and easy to manage. All you need is to provide them some to complete the procedure.
Flexible Designing Features - WordPress has always been the favorite of beginner programmers. As this offers the most exciting features for flexible designing. It is an open source platform and fast and easy to install.
Final Words on the latest WordPress Web Development Trends
So undoubtedly you can create a unique and miraculous website using the WordPress platform. For creating a business website, you must be knowing the requirements of the audience. And following the latest WordPress web development trends written above, you can increase the chances of getting the best ranking for your website. Just take on as many points that suits your website creation planning, and try to create the most user-friendly website. Always remember, the users are the Ultimate Boss everywhere! Always keep this in mind.
Thanks for reading the article!! Hope you've found some help here…