Welcome to Writing Board, WordPress Tutorial Theme
Welcome to our New Theme Writing Board, WordPress Tutorial Theme.
WRITING BOARD, WORDPRESS TUTORIAL THEME
Writing Board is a WordPress Tutorial Theme and WordPress Blog Theme. You may find it the best WordPress Tutorial Theme. Writing Board is perfect for Personal or Corporate Blogs, Tutorial or Learning Sites and of course Multipurpose usages. Modern CSS3 and HTML 5 based design will make your site different from others. Writing Board WordPress Theme is super Elegant and Professional which will expand you widely. RESPONSIVE Layout will make your site available to all devices. The Slider will show the featured images and contents of posts automatically. Front Page, Right and Footer Sidebar will be usable for showing the Widgets and Plugin items. Full Wide page can be used for showing showcase or other pages. This WordPress Tutorial Theme can also be shown in any desired color.
You will have Advertising Positions and Options from the Theme Panel and can show Unlimited Advertisements.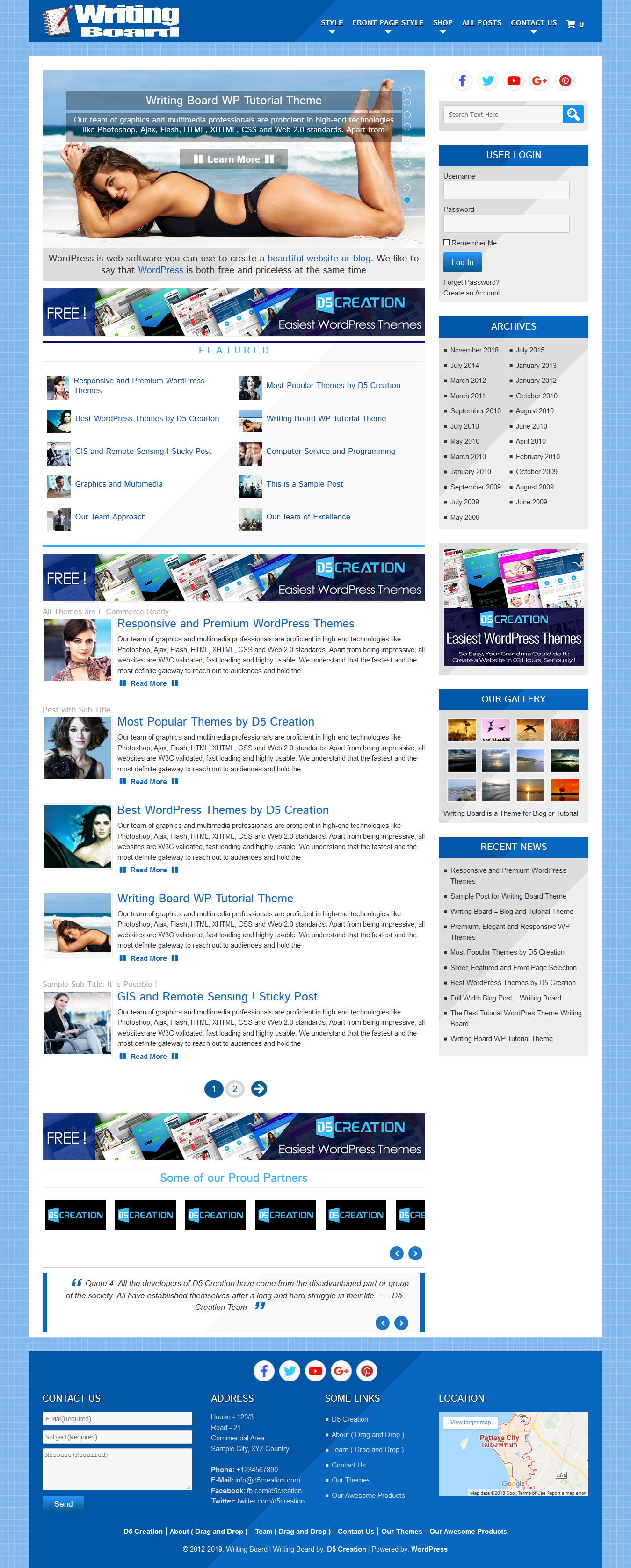 ADVANCED FEATURES OF EXTEND VERSION
-User Friendly Extra Theme Options
-RESPONSIVE!
-E-Commerce Ready! WooCommerce Ready!
-Advertisement Ready! Unlimited ADs! Add Positions Included
-Three Site Layout. Full Width, Left Sidebar or Right Sidebar Option
-LogIn Box for the Users in the Front Page, can also hide this
-Logo and Favicon Inserter Option
-Sliding Image and Posts from Selected Posts! You can select which posts should be displayed
-Unlimited Slide Showing
-Slide Images can be Shown from Blog Posts or Pages New!
-Easy Options for Color Customization
-Google Analytics Code, Custom CSS and Scripts Inserter
-Selected, Unlimited Showcased Posts in Front Page
-Can control the Posts in Front Page
-Subtitle Adding Options with Post Title
-Site-wide Comments Box Disabled Option! Complete CMS Theme! Exciting!
-Easy Language Changing Theme Options, You can set all the Front-end Texts in your Own Language
-Full Content or Some Content and a Read More button adding facility
-Full Width Post View
-Front Page Blog Posts and Right Sidebar Hiding Option
-Author, Date and/or Post Meta removing Options. New!
-Top Search Box Hiding Option
-Site Logo and Url can be displayed in Login Page, Own Branding!
-Customizable Copyright Notice and SiteMap
-Hiding options for Theme Credit to D5 Creation and WordPress
-Client or Partner List Customization
-Client or Partner List Link Adding Options
-Social Media Integration Options, More Expression
-Dedicated Support
-And Many Options…
-And Extra Features…