D5 Creation Theme Options Export Import: Keep Your Settings' Backup now
All of our Theme Users know that, D5 Creation's Themes are Independent. None of them are dependent on Plugins. We may recommend some Plugins but those are not Required when most of the Market Place Themes are dependent on various Plugins for Theme Features like Slide, Featured Boxes. Portfolio etc. All of the Free Themes are Approved and Part of WordPress.org's Theme Repository. So, we have to maintain all WordPress Coding Standards. If you check any of our Themes with the official WordPress.org's Theme Check Plugin with WP_DEBUG mode TRUE you will not fine any Red Marked Warning or Required Items. We are sure that you will find lots of Red Marked Warning and Required Issues with most of the Marketplace Themes.
Our Themes are Lightweight and Secured in many aspects. Peoples love our Themes because of their Simplicity. We also use easy and user friendly Theme Options Panel. People who use our Themes love the Options Panel. They are lightweight. Those are with few files, not more than 10-15 and the scripts are not more than 130KB in size when most of the Marketplace Themes uses Options Panel with more than 350+ files and 5MB+ in size. So, we can ensure you that, the Options Panel we use is faster and easier.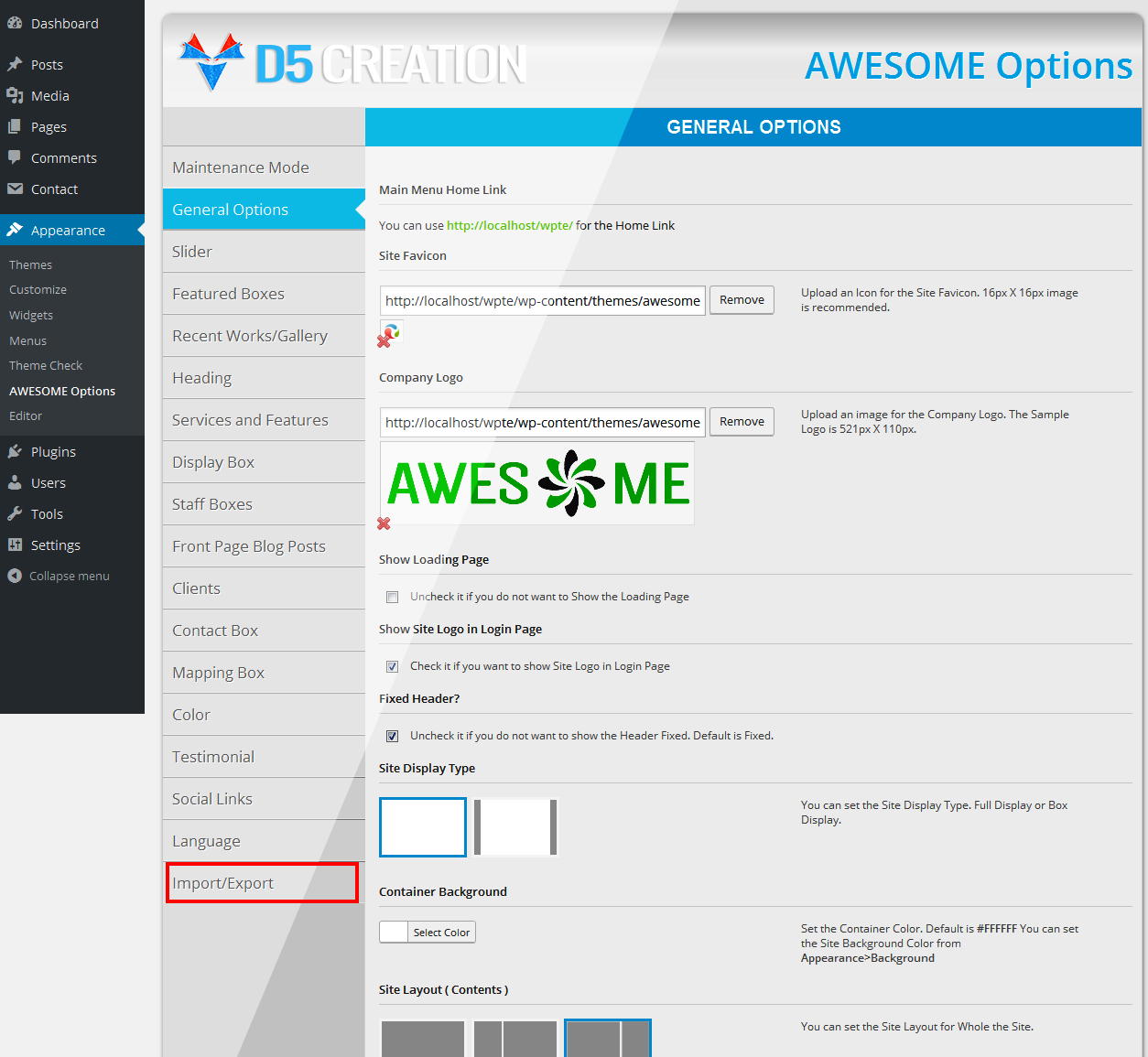 This Options Panel is easy to manage. But, what about Backup and Restore ?
Yes, you can Backup/Export the Theme Options/Settings as a File. You can Restore/Import the Backup file again in later time. Users find WordPress default Export and Import features under WP-Admin > Appearance > Tools but those can Export/Import only the Posts/Pages etc. Theme Options/Settings can not be Export/Import from There. But You can Export/Import the D5 Creation Themes Options/Settings from the Theme Options Panel now.
You may Require this feature, because
You may want to preserve a backup of your Theme Settings so that you can use that in case of any disaster of your site
You may want to move your site to one host to another
You may want to change your domain
You may develop your site in a Localhost and want to transfer the Site in Live Server
You may want to keep time to time changing Backup
When you will install the Latest Versions of our Extended Theme you will find the following Export/Import Tab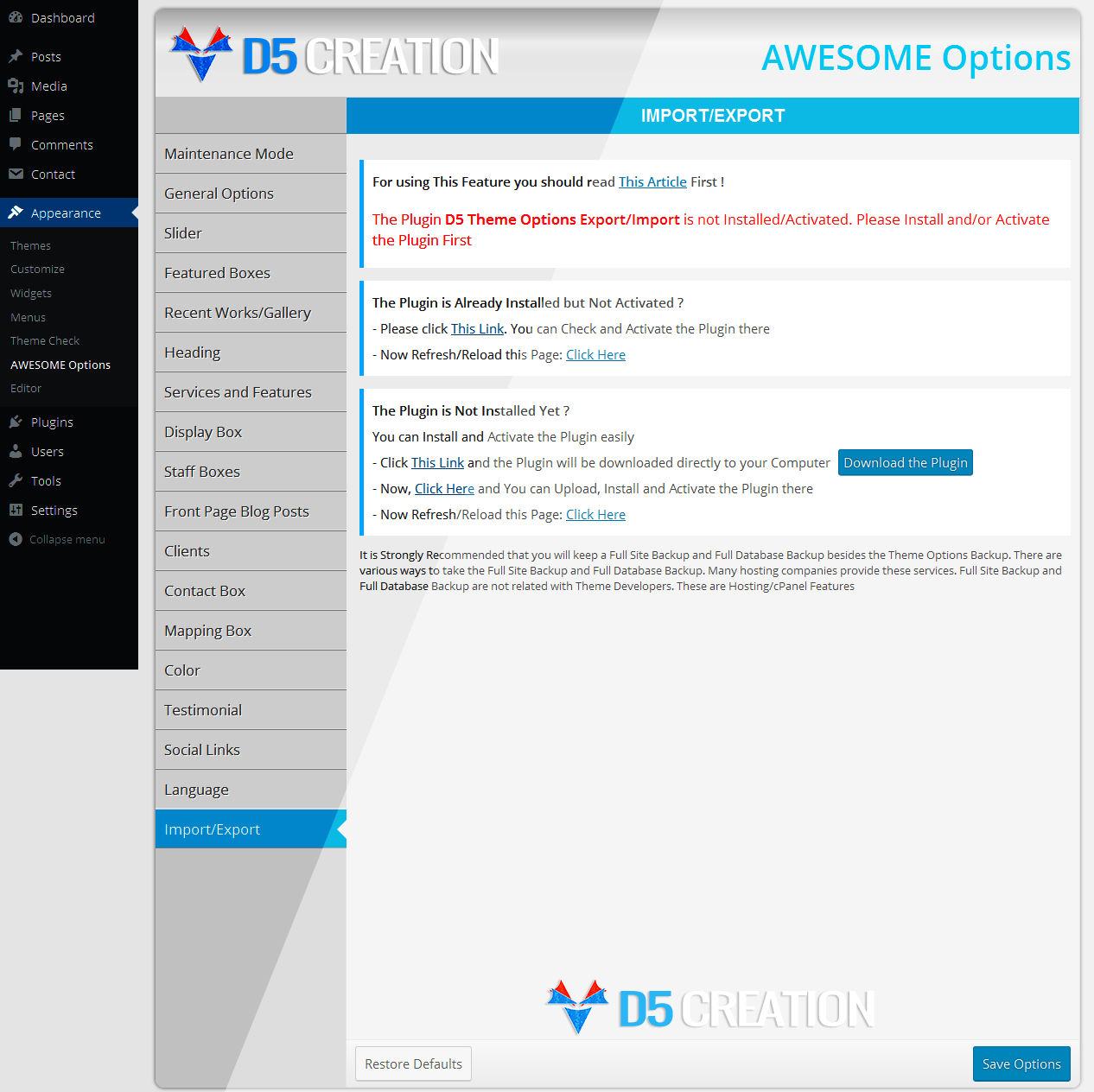 This Screen shows that you need to Install and Activate a Plugin. The Plugin is Developed and Distributed by D5 Creation. You need not install and activate the plugin if you already have the plugin installed and activated. You will find detailed instructions in the Page on what to do.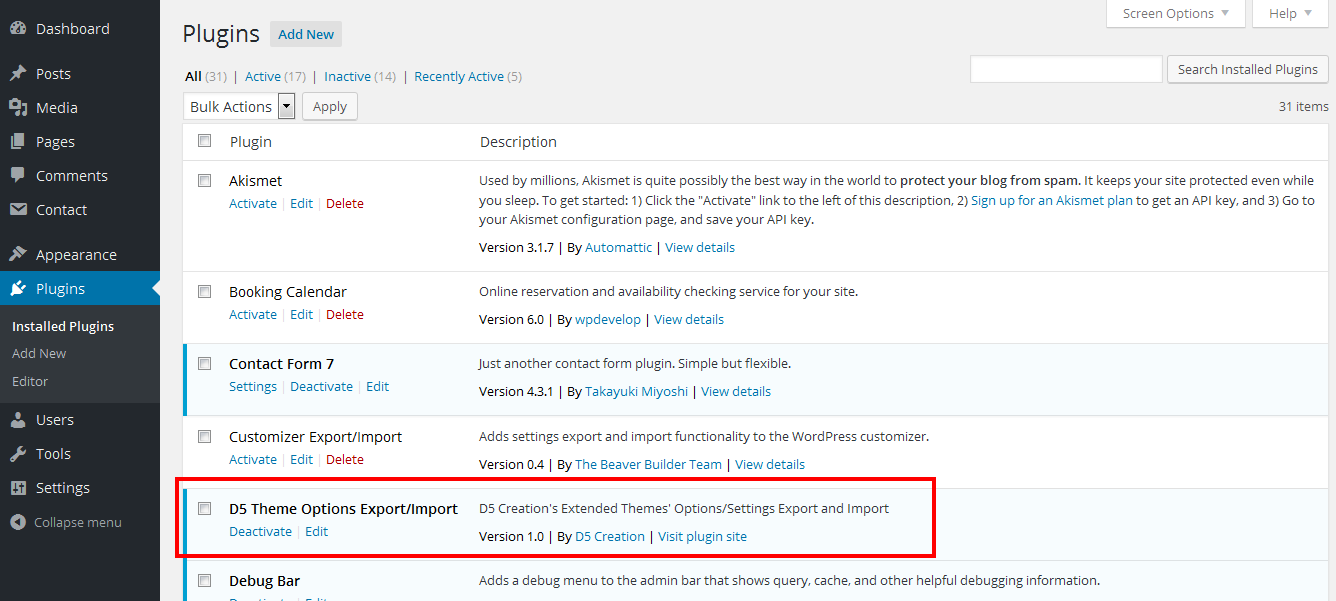 You will install and activate the Plugin. After installing you should Refresh the Export/Import Page. You will then find the Button for the Export/Import Feature. You can also find that at WP-Admin > Tools > D5 Theme Options Export/Import location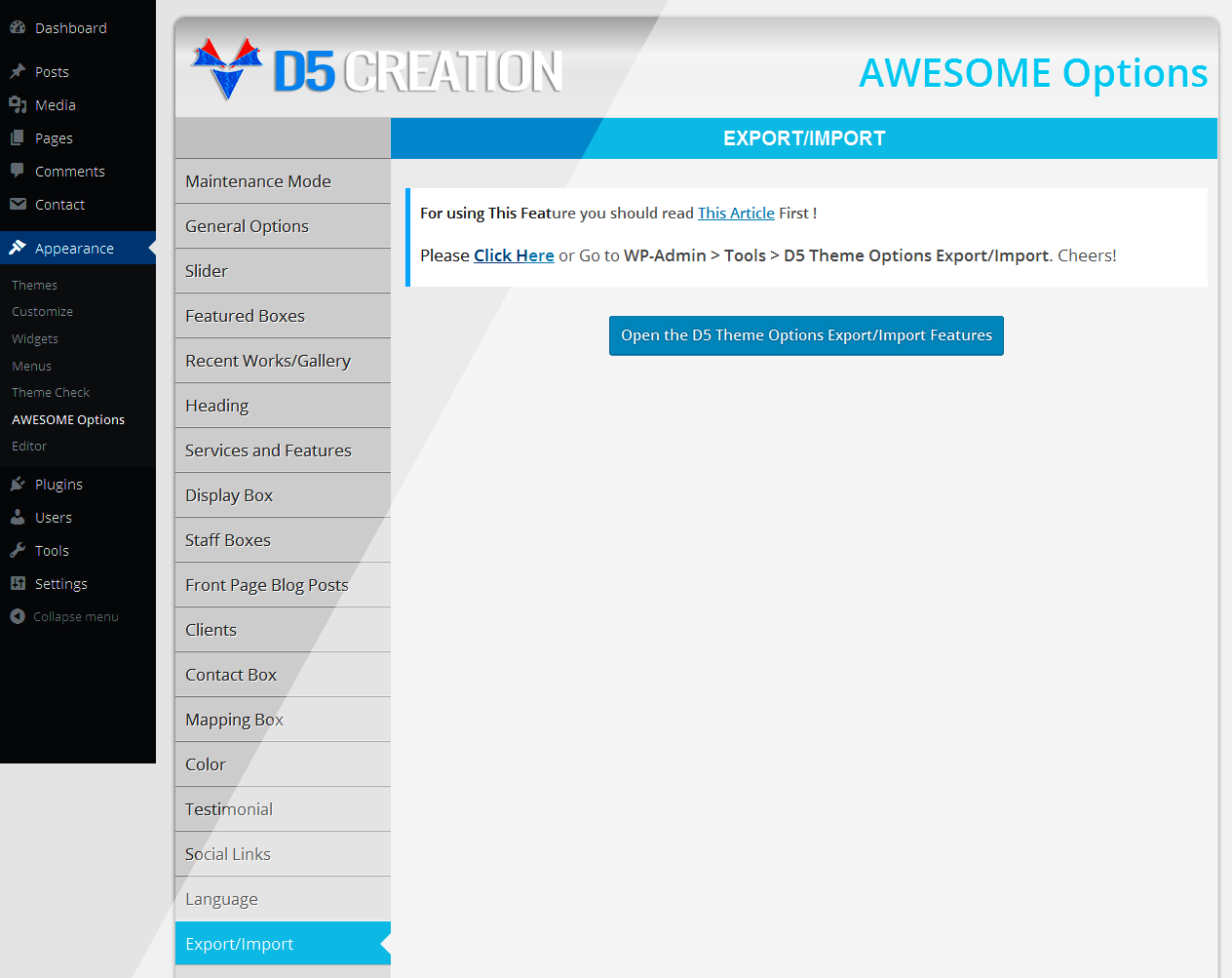 Now, the Export Import Feature is Ready for you. You can preserve the Theme Options/Settings Backup and can use that later in the same domain or changing location. But, the Backup will work only for that Particular Theme. Suppose, a Theme Options Backup of Awesome Extend Theme will work only for the Awesome Extend Theme, not for SnowFall Extend Theme.
The Backup will work fully in the Same Location and Same Domain but when you will change the location or domain, you should need some adjustment. You should change the URLs, Links manually.
Suppose, you have a Site with Innovation Extend Theme at anicedomain.com and you have kept a Backup of Innovation Options. There is a Slide Image at the location of http://anicedomain.com/wp-content/uploads/2016/02/slide1.png. You moved your site to anewdomain.com, but keep all the files in the same location of the domain. Then, you imported the Theme Options Backup. The Backup will show the Image Location to the old one http://anicedomain.com/wp-content/uploads/2016/02/slide1.png. So, You need to update the Image Location manually. If you are technically sound you can change/replace all URLs/Links at a time from the Backup file opening that in a text editor. But, you must keep a copy of the original file.
You need not do anything changes manually if you use the Same Domain and File Location. If you use any CND or any other Common File Location, you also need not do any changes manually.
It is Strongly Recommended that you will keep a Full Site Backup and Full Database Backup besides the Theme Options Backup. There are various ways to take the Full Site Backup and Full Database Backup. Many hosting companies provide these services. Full Site Backup and Full Database Backup are not related with Theme Developers. These are Hosting/cPanel Features.
This D5 Theme Options Export/Import may or may not work with all WordPress Environment. This Product is provided "as is" with no warranty or liabilities of D5 Creation.
Good News for Other Theme Developers/Users who are using Options Framework Theme or Options Framework Plugin
We developed the Plugin not only for our users. It can also be used in other WordPress Sites who are using the latest version of Options Framework Theme or Options Framework Plugin. The Plugin will add a Tab in your Options Panel named Export/Import. You may try the Plugin for Your Site. You can download the Plugin from This Link.
We are grateful to whole WordPress Developers for this Wonderful Platform and Devin Price for the nice Options Framework.
Thank you all, who use our Themes. We Love you all.