Troubleshooting Errors Found in WordPress Theme
It's no more hidden that, WordPress is a simple and easy-to-use content management system. Moreover, there are several benefits you get to access using this CMS. To begin with, there are thousands of plugins – that can be used to expand your site's functionality. And, you can choose to have free or paid WordPress theme to build your website in just a matter of few minutes. But unfortunately, not all of the themes are same and might cause errors that can make any beginner panic.
In this post, we will be covering 4 of the most common WordPress theme issues. In addition, we'll also provide solutions to help you understand how you can fix those issues on your own.
1. Stylesheet Is Broken or Missing
Have you just downloaded a free theme or purchased an amazing WordPress theme? Your next step will be to install that theme. But, often after activating a WordPress theme, at the bottom of your themes page, you'll get an error message saying that the theme is broken due to "stylesheet is missing".

Solution:
In order to fix this issue, you'll need to first look for your theme folder on your desktop system. Once you've located that folder, open it and it must contain all your files. If not, then the theme is likely added in any sub-directory.
2. Homepage Looks Different In Comparison to Demo
One of the most common WordPress theme issues is that the homepage of the activated theme doesn't appear to be same as the demo.
Solution:
There are many different fixes to resolve such an error discussed as below:
Rather than using the homepage layout, many theme developers choose to use custom page templates for their theme main page layout. Make sure to carefully read the documentation provided along with the theme carefully, and check to see if a Home or Homepage template is present or not. If such a template exists, then simply create a page using this template, and then go to Settings → Reading. From there, set the template as your static page option.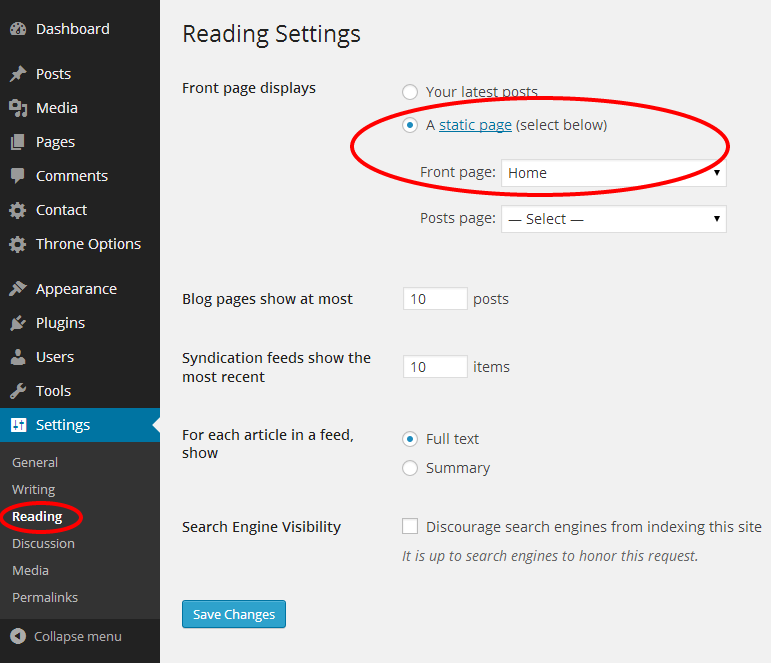 A second possible reason that makes your homepage look different than demo is because of the wrong reading settings. Simply put, possibly your theme may be set to "use a static homepage", even if the theme doesn't need to use a template for the homepage layout. And so, you'll have to make changes to theme reading settings. For this, move to Settings → Reading, and check the "Your latest posts" in the Front page displays option, as follows: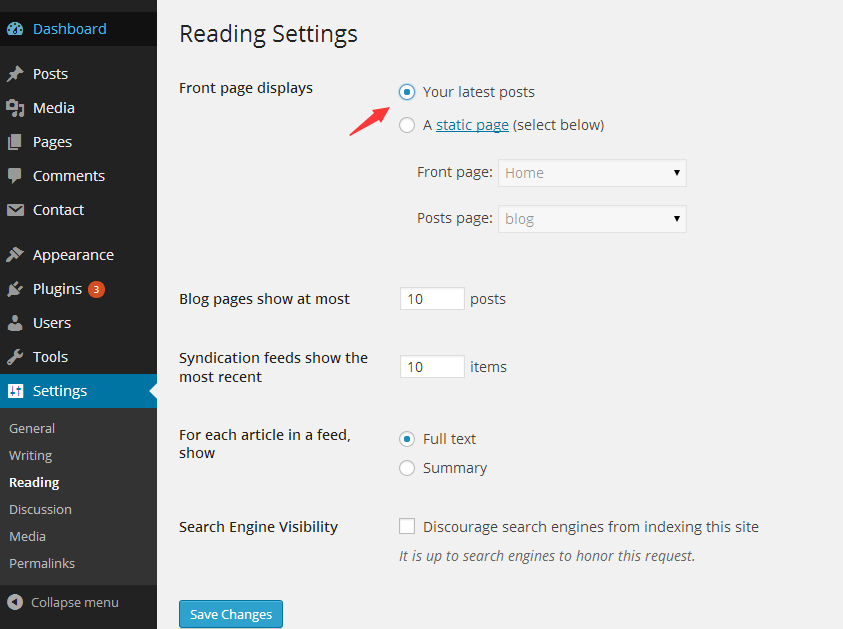 3. Your Site URLs Are Not SEO-friendly
The default URL structure of a WordPress site isn't optimized for search engines. Remember, a good SEO friendly URL structure increases your chance of ranking higher in Google SERPs (search engine result pages) and others. And so, it becomes important to make your website permalinks more search engine friendly.
Solution:
In case your website urls do not look appealing to you, then you can choose to change the default permalinks. For doing so, head over to Settings → Permalinks, and choose any one of the options that best suit your needs. Ideally, you need to select the "Custom Structure" option from all other available options in the Permalink Option Page. And then, enter a URL structure in that option, such as:
/%category%/%postname%/
Or, you can choose the below mentioned structure – ideal to be used for a static website:
/%category%/%postname%.html
4. Is Your Theme Menu Blank?
People who use the WordPress CMS on a daily basis won't stumble upon such an issue. However, newbies can become confused seeing a blank menu after installing the theme.
Solution:
You can fix this issue, by moving to Appearance → Menu from your website admin dashboard screen, and setup your menu.
Final Words
Hope that this post would help you understand what all issues you can expect when installing a WordPress theme. However, choosing the right WordPress theme – that is developed strictly according to WordPress design and coding standards will most likely have fewer issues. All of the D3 Creation Themes adheres to such standards. And so, choosing any one of their WordPress themes will help you setup a gorgeous, responsive website in no time.
You may know that all of the D5 Creation Themes are coded maintaining all WordPress Coding Standards. D5 Creation Team is well known and popular for the rapid support services.