10 Ways to Use WordPress Beyond Blogging
If you're an active content creator on Internet, you must have heard of WordPress. Widely considered the favorite tool of millions of bloggers across the world, WordPress is a highly versatile platform which, when employed properly, can often work wonders for your online needs.
Over the years, WordPress has evolved from just a blogging platform to include several different features, functions and integrations. After nearly 14 years into existence, WordPress, as a platform, is only expected to grow and include many more new bells and whistles as the time goes on.
With that thought in mind, we are bringing you 10 ways you can use WordPress that go beyond just using it as a blogging platform so that you can harness all the goodness of WordPress.
1. Installing Multiple Websites (Website Networks)
Let's say that you have a medium-sized business with smaller branches spread across the country, and you're looking to create websites for all of these branches. WordPress can help you here by allowing you to install "multiple" websites on a single installation of WordPress. This popular feature of WordPress is referred to as "WordPress Multisite". This featuregives you the ability to create sub-sites associated with your primary site in the form of either sub-domains or sub-directories within the same network.In order to enable WordPress Multisite, you just need to follow the simple process of heading over to your WordPress User Panel. Once you're on the portal, simply go to Install > Utilities > Enable Multisite to activate Multisite.
Once you enable Multisite, a new user role "Super Admin" will also get enabled. This user role provides you with the ability to manage the primary site as well as all the sub-sites so that you can customize each site as per your preference.
Now, there might be a situation where opting for WordPress Multisite might not be the best option for you. Here is a quick guide that will provide you more information on the when to use WordPress Multisite and when to opt for other options.
Also, setting up a site on WordPress is not that difficult a task In fact, you can choose from several WordPress themes that we offer to be the face of your new network of websites. All our WordPress themes are coded as per the latest WordPress guidelines and hence any standard external plugin that you might want to us will effortlessly integrate with our themes.
2. Creating an Online Forum
Forums form a major part of the online user base in today's world. Every now and then, new forums take the online world by storm and end up making their owners some very good bucks.
Hence, if you are looking to build your very own online forum-powered community, WordPress has just the right tools for you.
WordPress offers several community plugins that come with "forum" features which you can incorporate on your website to offer your audience a mean to connect with other users, voice their opinions on various topics and engage with other forum members.
Additionally, you can customize your "forum" platform to have some USPs so that users prefer it over the competitors and keep the discussions inside the forum itself without going to any other popular platform.
3. Building A Social Network
Social networks are on the rise on the internet these days. If you have an idea for the new Facebook or Twitter, you don't really need to go to Harvard or know how to code a social network from the scratch.
WordPress can come to your rescue here as well. WordPress is essentially a CMS (Content Management System) and this feature of WordPress assists in the creation of sleek social networks. You can make use of any of the several popular WordPress social network plugins to create a social network of your own.
Moreover, depending upon your preferences, you can further integrate additional plugins to add more unique features to the website. All you need to do is install a good theme and then integrate plugins to achieved the desired functionalities. A good social network provides its users with a unique experience and this level of customization is easiest to achieve using WordPress.
The best part, though, is that most of the popular social networks come with zero cost. They are also supported by very active communities which means any questions or queries that you might have will stand greater chances of getting quick addressed and sorted out.
4. Setting Up An Online Store
According to Statista, in 2016, retail e-commerce sales worldwide amounted to 1.86 trillion US dollarsand this is expected to grow 4 times by 2021. If you're looking to sell products or even services, you might want to look over conventional 3rd-party marketplaces like Etsy, Instapage among others.
WordPress allows users to setup online stores by making use of WooCommerce plugin,which provides you with features like checkout, product management among others so that all you have to do is just upload your products from the backend and then get started with the selling.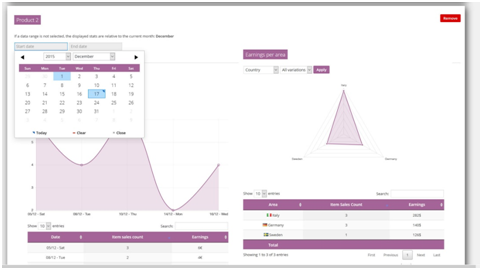 Additionally, WooCommerce also provides you with insights into how well your online store is doing by providing data and trends based on user activity.
5. Setting Up A Subscription-based Website
If you offer any online programs or courses, you might want to have a website from where people can get your content after signing up for a monthly subscription. This is one of the most popular revenue generation model on the internet these days.
Using a potent combination of membership plugins, recurring payments, and an ecommerce system which you can easily power using WooCommerce, you can setup your next big source of online income without doing any major coding or shelling out big bucks to hire any developers.
Further customizations to these plugins and to the manner in which they are integrated with the website may enable you to offer various different subscription plans to your audience which will positively affect your business. This way, you can use WordPress to control the flow of your online revenue while also providing your audience with a good deal of choice so they can choose what they prefer.
6. Using WordPress As Your Web App's Framework
Setting up a website on WordPress is no biggie. However, there aren't many people who have tapped into WordPress's ability to work as backend framework for web applications.
Several popular web and mobile applications use WordPress's CMS as the backend for their application as it provides features like an easy to use management module, quick URL mapping, fast media upload options among other options.
WordPress provides its own WP REST API which you can integrate with your web or mobile app and then quickly build your application without having to build a backend framework from the scratch.
The templating engine in WordPress also makes it easier to fashion the front-end of your web application with visually striking designs and layouts. Since, WordPress doesn't follow MVC - model-view-controller - architecture, it is also easier for designers to get going on WordPress as compared to a PHP-MVC based framework.
Interestingly, you can also employ the previously mentioned WordPress Multisite feature in order to create distinct instances of your web application for localized usage.
7. Next Level Performance Optimization

So you set up a website for your business on WordPress, but you are not happy with the speed and performance of the default site. Well, that's nothing to worry. WordPress, owing to its large database of plugins, is here to rescue.Depending upon your particular concern, you can integrate various plugins on your website that will enhance the performance of your website in a variety of ways ranging from improving the load speed to caching the content on the website more frequently.
It is safe to say that WordPress offers you more ways than one to make sure your website outperforms your competitor's.
8. Adding Features To Your Website Without Coding
Ever came across a situation wherein you thought about adding an interesting feature to your website to attract more visitors but couldn't actually do it because of your lack of coding expertise? Well, if you have a WordPress website, the latter shouldn't be stopping.
Here is where WordPress shortcodes shine through. Before we deeper, we must expand a bit more on what exactly do WordPress shortcodes refer to?
A "shortcode" is a WordPress feature that offers you the ability to insert content on your website using special HTML tags that you insert in your WordPress post from the CMS backend. It is generally used in cases where you need to embed external content on your website. For instance, you can embed. YouTube video on your WordPress website using a shortcode.
Shortcodes allow you to incorporate multiple lines of code into the website using just a few lines. Moreover, you can also create custom shortcodes in WordPress - this is especially helpful when you only have basic coding expertise.
Below is a visual representation of a WordPress shortcode: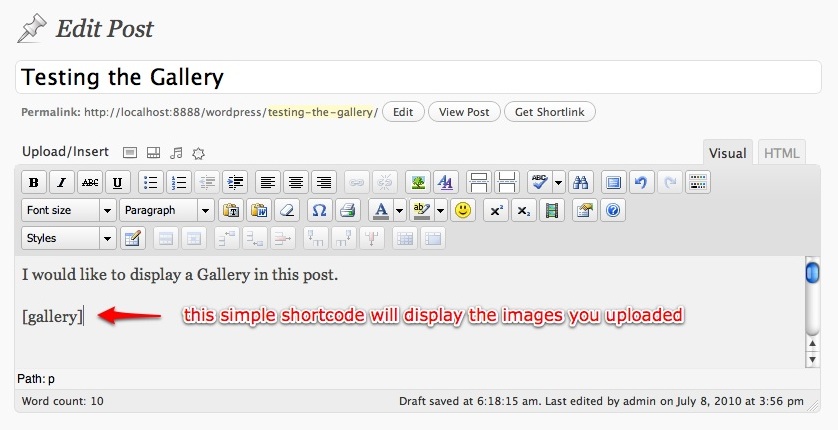 9. Make Your Website More Secure

Like so many other aspects of running a website, WordPress also makes it easier for website owners to keep their website safer on the internet. WordPress understand that a hacked site can lead to some pretty serious setbacks to your revenue generation capabilities as well as your business's reputation.Keeping this in mind, WordPress regularly updates its security features as well as plugins. There are several thousand 3rd-party WordPress plugins available out there that can help you make your website secure from all kinds of threats ranging from DDoS attacks to phishing attempts.
Also, in order to make sure your website is always one step ahead of those looking to harm your online presence, keep your WordPress website updated at all times. By default, WordPress will automatically install minor updates. However, for major releases, you will need to manually initiate and approve the update.
As a last resort, WordPress also lets you keep a backup of your website so that in an event where you lose precious data or any elements from your website, you can easily restore it using the backup.
10. Setup A Podcast Channel

Till a while back, textual blogs were the most sought-after means of spreading your word on the internet. If you had a world-changing (or even a much less impactful one) thought, it made sense to start an online blog and type away the inner rumblings of your mind.However, times are changing and with the advent of smartphones and digital content, people are coming with newer ways of making themselves heard. If you feel you have some interesting content or outlook to share with the world, you might want to setup an online Podcast channel.
WordPress offers users with several options both from a design perspective (using themes) as well as functional point-of-view. The latter can be achieved by incorporating Podcasts Plugins to your website. These plugins provide features like library management, ads integration among others. You can even track user behavior on your podcasts to further optimize your offerings for best results.
Conclusion
WordPress is like a Swiss knife - highly effective if you know how to use it. Backed by an ever-increasing and highly active community, WordPress offers more options to its users, than any other similar platform, to improve their online presence.
At D5Creation, we offer several resources like WordPress themes that you can use to create your very own WordPress website. We have numbers of Professional Themes. Our Themes are also listed at many renowned sites like: 8 Best Free WordPress Hotel Themes
There are several other ways you can use WordPress to further your online presence. Some of the popular alternate ways include creating a sales or landing page, hosting an online magazine (which you can also pair with a subscription system), or simply have a portfolio of your creative work to show it to the world.
Possibilities are endless and so is the power of WordPress! So if you're a blogger looking to do something more, don't hesitate; jump right into the world of WordPress and its amazing offerings.