How to Make a Great Writer Portfolio Website with WordPress
Ann Friedman, an American journalist, magazine editor, and writer, has one of the coolest online portfolios out there.
It's clean and minimalistic, but most importantly – it is created with the author's unique style in mind.
Ann Friedman is not the only author with an online writer's portfolio. Famous authors like Claire Fuller and Victoria Schwab also run their websites, where they showcase their most famous works and projects.
There is one thing that unites these writers – all of them use WordPress.
Why Use WordPress for your Writer Portfolio Website?
With so many content management systems available, why is WordPress the right choice for creating a great writer portfolio website?
Creators trust WordPress. According to the stats, WordPress powers more than 36% of the Internet, which equals around 455 million websites.
WordPress offers free and open-source software. If you're a beginner, you can take advantage of the basic features of WordPress.com, but if you decide to turn your portfolio into something bigger, you can self-host your website by moving to WordPress.org.
It's easy to install and operate. You can download and install WordPress in just a few clicks, with no additional payments or obligations (you can tackle them later if necessary). You can follow this WordPress official tutorial, too.
You create a responsive website right away. In this day and age, when more than half of all traffic comes from mobile devices, having a responsive design is no longer a choice, it's a must. With WordPress, you can create a responsive, mobile-friendly website right away.
How Can Writers Benefit from Having a Portfolio on WordPress?
As one of the oldest content management systems on the Internet, WordPress can offer writers a variety of benefits, including:
Responsive themes. Any freelance writer would like to be at the top of search results, but not many writers know that Google search results also depend on how responsive the theme of the website is. WordPress offers a variety of such themes, and many of them are free to use.
A variety of plugins. If you're a beginner or do not have the knowledge of PHP, you need a set of tools that will help you operate your portfolio website easier. WordPress has a big selection of plugins, which will help you optimize your posts, create instant reports on the performance of your website, and help you run your website more effortlessly in general.
Support of all media types. Images, audio, video, documents – you name it – there will be no problem for you to work with different media types on WordPress.
Apart from everything mentioned above, WordPress has a great community of users, where you can ask any question about creating a writer's portfolio website and get actionable advice from professionals.
What Does it Take to Make a Great Writer Portfolio Website with WordPress?
Now, let's take a look at some tips that will help you create a wonderful writer portfolio website with WordPress that will get you great freelance gigs.
1. Purchase Your Own Domain Name
Let's start with the preparatory steps.
The first thing you should take care of is buying your domain name. Think of it as the first small investment in your brand. After all, your online writer portfolio will serve as a marketing tool to promote your brand as a writer and an author.
Before you buy your domain, WordPress will offer you free options, which you can use for a while, until you are ready to invest in your own name.
What should you keep in mind when creating your domain name?
Choose a brandable name. Brandable means short, catchy, and easy-to-recognize. "As a writer, it is advisable to use your name as a domain name since you are the brand yourself," says Diana Adjadj, a content writer at WritingJudge. All the writers that we mentioned at the beginning of the article use their names as domain names.
Go for .com option. On the image above, you can see different name extensions, from .life to .blog. However, it's always a good idea to go with a classic .com option because people are more familiar with it, it looks more professional, and this option is used by 50% of websites. 
Check the trademark for your name. If you decide to choose a domain name that is not your own name, check beforehand if someone already owns it, so you don't infringe on a trademark.
2. Outline the Pages of Your Website
Creating a writer portfolio doesn't mean that you simply upload the links of your works to the homepage. It should look more professional and show your potential clients than you're more than just the projects you've worked on.
A great example of this is Najmin Mortuza's website with the AssociationX Theme.
Above, you can see a well-planned writer portfolio website, with several pages, where a visitor can get acquainted with the writer in a consistent manner – from getting to know about her story to her projects and testimonials from the clients.
One of the common mistakes that beginners make when launching their WordPress website is not creating a blueprint of their website before.
In WordPress, you can play around creating different layouts of your writer portfolio website in the Draft mode:
When planning the outline of the pages of your portfolio website, think about what you want your visitor's first experience with your brand to be.
WordPress allows you to include as many pages as you want, but you need to make sure they all play an equally important part in creating your online brand. After all, your portfolio is your marketing strategy to promote yourself, and the experience your visitors will have with your portfolio website will determine their first experience with you as a professional.
3. Choose a Responsive WordPress Theme
There are plenty of WordPress Themes that can suit the needs of your portfolio. Many of them are open-source, so you can start with a free one before you can purchase a more advanced WordPress theme.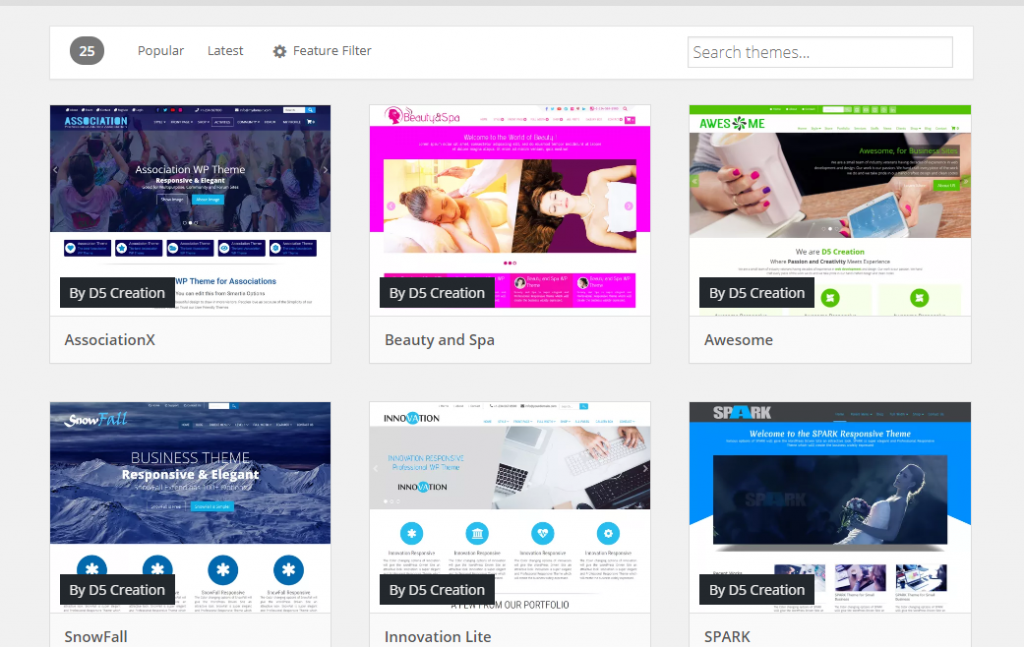 However, even with free WordPress themes, you need to make a wise choice based on the following requirements:
Make a list of what you expect from the theme. Layout options (grid, layout, number of columns, left or right sidebar) and features (customization of colors, headers, menus) – think over these points before you select a theme that you will install/purchase. Compare your list of requirements to the demo versions of the themes to find the one that matches your needs.
Don't choose a cluttered theme. Remember – clutter is the enemy of responsiveness, which, as a result, creates a bad user experience. One of your biggest concerns as a writer should be the fonts that a theme offers you. Choose the one that has good readable fonts like Open Sans, Arvo, Lato, or Josefin Slab.
Check browser compatibility. Most of the WordPress themes are tested for compatibility with different browsers, and the developers do mention it in the description of a theme. If you cannot find such information, run the theme in a test mode on different browsers before purchasing it.
Check themes for language availability. In case you want to translate your writer portfolio website into different languages later, you need to check if a theme supports such an option. While you're at it, check whether a theme supports plugins that will help you create a multilingual website and optimize it for search engines.
Check if the theme is SEO-friendly. We already mentioned that your choice of a WordPress theme impacts SEO, so pick one that will have your portfolio appear at the top of search results.
In general, we recommend running a demo of a theme before purchasing or installing it. Even if the theme seems like it will work for your writer portfolio website, it may deliver different results after you install it.
What Else?
Turn your writer portfolio website into the gallery of your projects. These can be your personal hall of fame, that's why it's not the best idea to stuff it with all the projects you've ever worked on.
All you need to do as the owner of a writer portfolio is to follow some preparatory steps – purchasing a domain name, creating a blueprint of your website, and choose a responsive, SEO-Friendly Theme. The WordPress website builder will take care of the rest and guide you through the process of creating a great writer portfolio website.