Most Popular SIMPLIFY has been Updated, You should Update your Site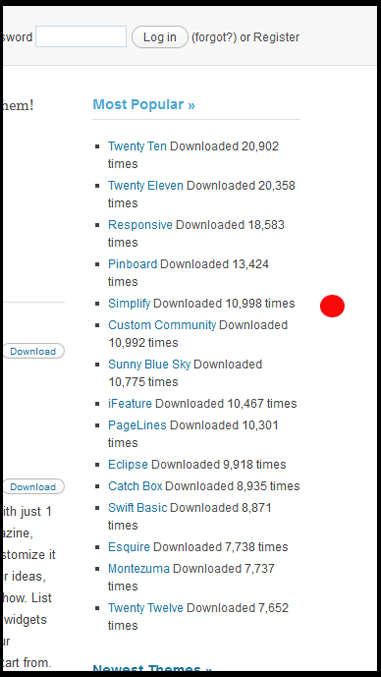 Simplify WordPress Theme is the Most Popular Free and Premium WordPress Theme with exciting 3D Slide. Simplify is best for Smart Small Business Companies and Organizations as well as large corporate companies. Simplify is a CSS3 Powered and WordPress Latest Version Ready Theme for Business Companies. Simplify has 3D Slide with 04 Slide Effect. Simplify is super elegant and Professional Theme which will be adjusted automatically with all smart devices. Right and Footer Sidebar will be usable for showing the widgets.
Simplify was listed as one of the top 05 Most Popular Themes at WordPress.org several times and has been listing as a Featured Theme at WordPress.org after an interval. SIMPLIFY is powering more than 50,000 websites worldwide. You may know the Features of SIMPLIFY Extend. You can show Flash Animations, MP4 Videos besides the Images in the Slider. You can also Embed/Use any iFrame, JavaScript, HTML, ShortCode etc. in the Slider Position to show any Live Streaming, TV, Video, Radio etc. The Possibility is unlimited.
SIMPLIFY Extend has been UPDATED and the Current Version is 4.3. This is a Major Version and you should Update Your Site with this Latest Version. You can follow This Tutorial for updating your site.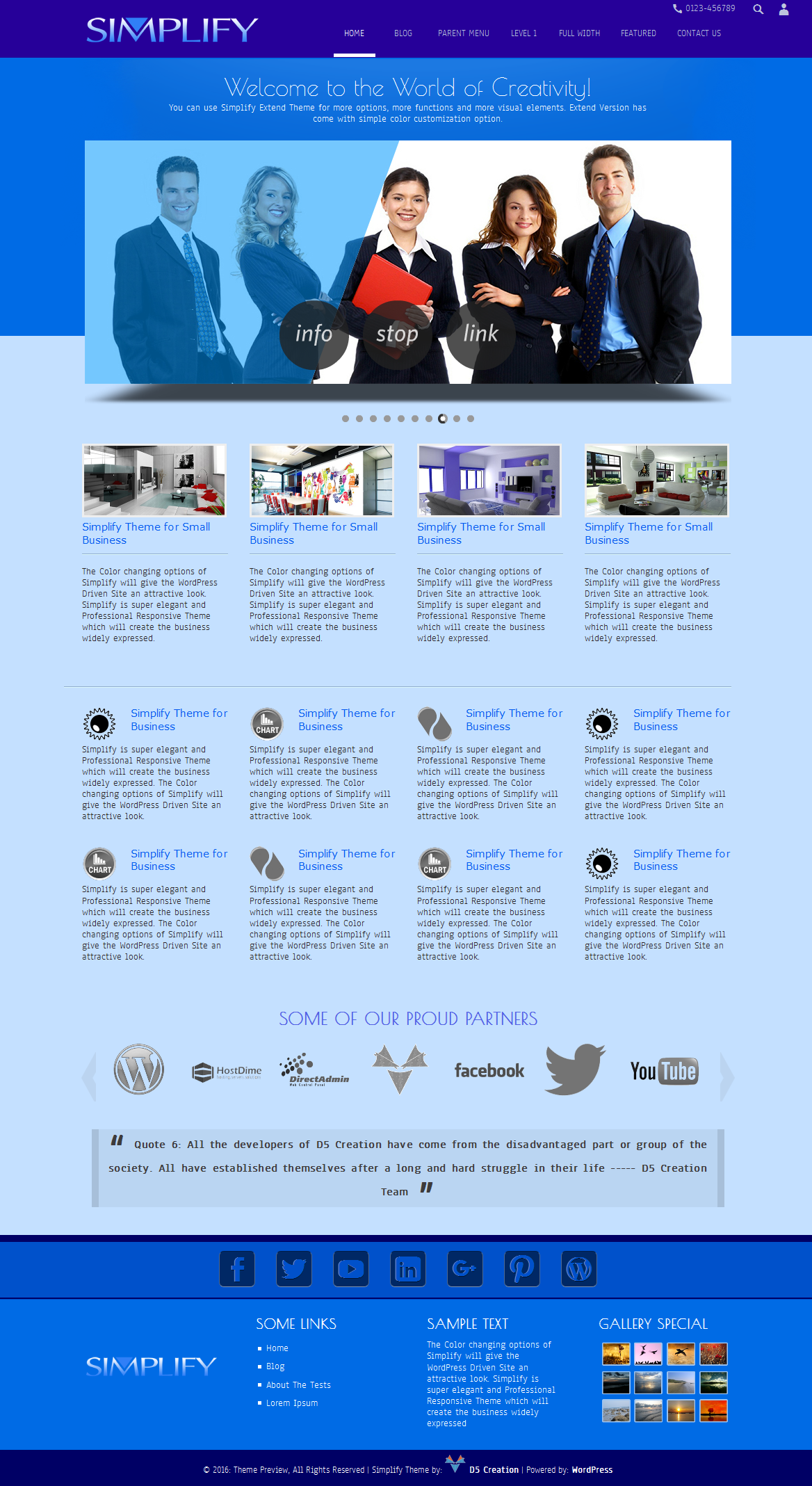 Security Update
This Version has introduced some new Security majors. You may know that WordPress released a Major Version recently. We also updated the Theme SIMPLIFY maintaining the latest Standards of WordPress. You will not find any Red Marked Warning, Required Items in our Themes if you check our Themes with the WordPress.org's Official Theme Check Plugin.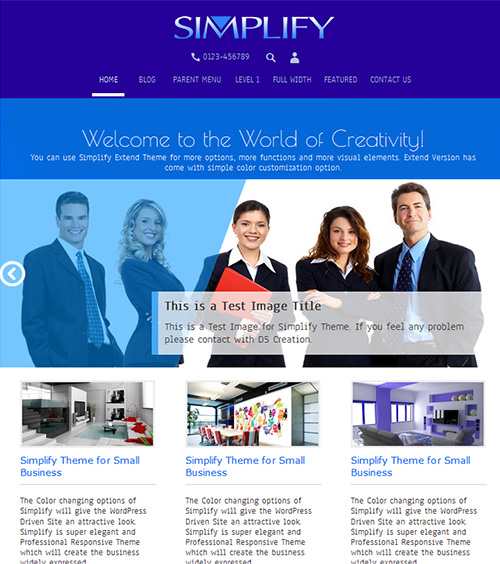 It is very impotent to take decision that the Theme is WordPress Standard or not. You may find Lots of Themes which are visually very attractive but could not pass the Theme Check Plugin check. Those will show numbers of Red Warning and Requirements.
Better Responsiveness
The Responsive Layout has been improved significantly. Theme will show fallback Image Slider for Small Screen Devices which will maintain the Width and Height Ratio. The Fallback Slider is purely HTML and JavaScripts Slider. So most of the Smart Devices can show the Slider without any issue. Responsive Layout is important because many people visit websites from their Mobile Phones, Tablets etc. The number of Small Device visitors are increasing day by day. This New Version of Simplify not only improves the Slider Quality but also show other elements nicely. Your site will pass the Google's Mobile Friendly Test. You may know that Google gives emphasis on Mobile Ready Sites.
Better Color Customization Options
SIMPLIFY can manage the Website's Colors more efficiently. You should change the website color matching to your Logo and your Brand Color. It is important. Color may impact your visitors's psychology.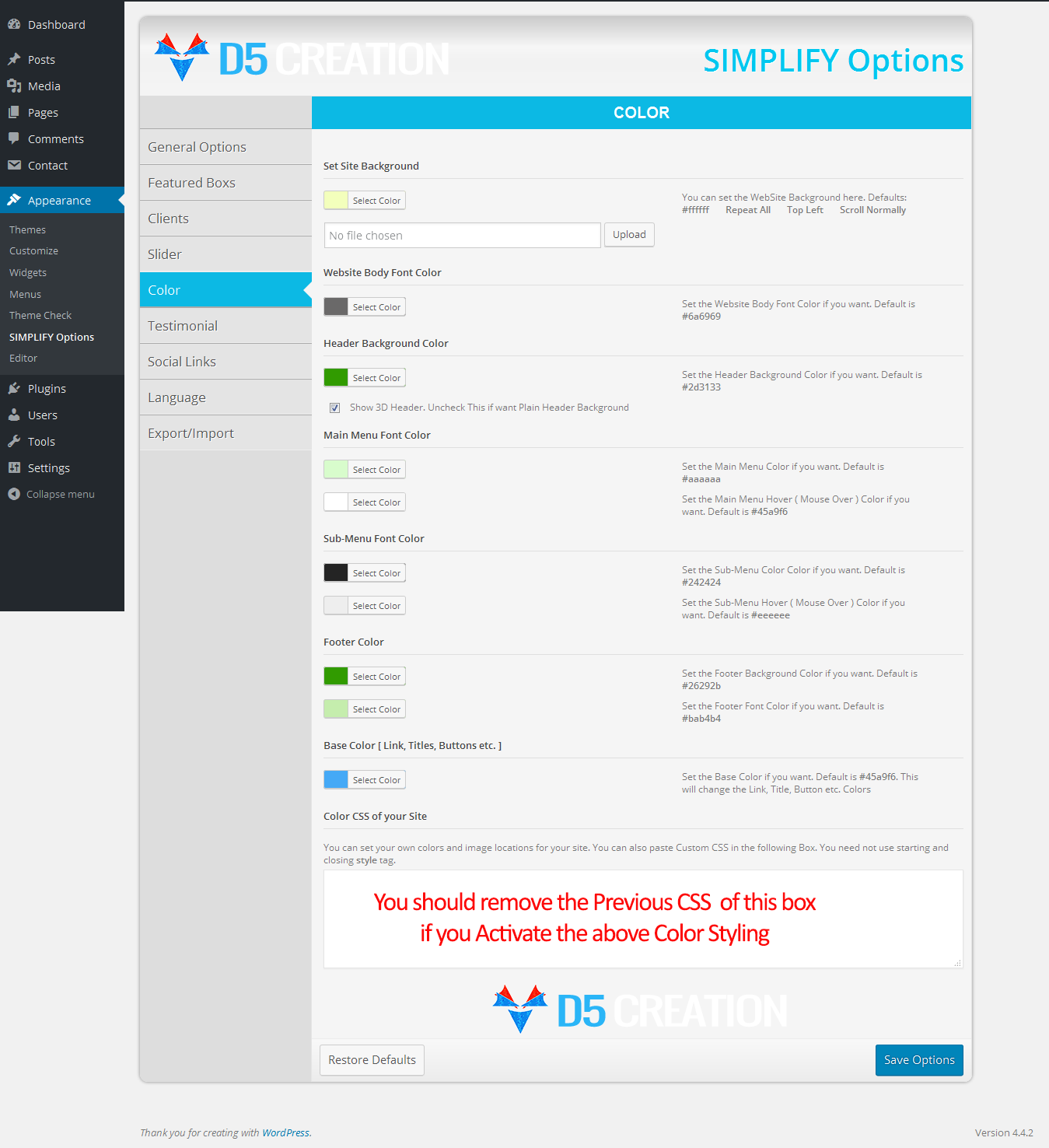 Suppose if your Logo has Green Color you can turn the Site's Color to Green easily. SIMPLIFY can do that for you. It is just a few click matter.
Choosing an appropriate color combination in the website design process is considered one of the most important (yet often overlooked) elements in creating a successful website. Psychologists have revealed that people are susceptible on a subconscious level to color impressions and that over 60% of acceptance or rejection of a website is tied to this very fact. Choice of color has the ability to generate a positive impact to the visitor and as a result, make the visitor stay longer. We all know – the longer the visitor stays the more the chance of enticing him/her to take action on the end website goal. Here is a list of things that I consider important in determining the colors that can influence your visitors in a positive way.
SIMPLIFY can turn your Website into any Color including Background, Texts, Header, Footer etc. SIMPLIFY can Dynamically Adjust relevant colors! You may not find this Feature in another providers' Theme.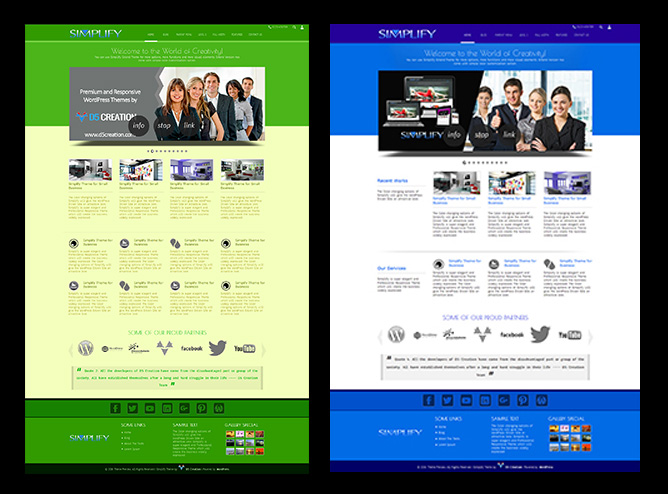 As stated earlier, it is important to relate your product / service to a color relevant to your industry.
Red is attractive and powerful and would go well for websites that are focused on products meant for children and also for inducing a visitor to take action with a "Book now", and/or "Reserve now". Red invokes emotion.
Orange is used in websites that promote food products. It is known to promote positive thinking and increase creativity. The color also appeals to the younger generation. Many technical companies use Orange.
Yellow signifies cheerfulness and creativity. It appeals to children and is used in sites that promote leisure products. Yellow, however, can tend to strain the eyes and should be used as an accent color in most cases.
Green is pleasing to the human eye and is apt for tourism sites and sites that relate to nature. Green symbolizes prosperity and wealth. Green also invokes trust and is one of the most trendy / corporate colors.
Blue is a conservative color with incredibly high trust value and is known to relax the nervous system. It is suitable for sites offering high- tech products and also for diet products. Many people mistakenly use blue for text color. This should be avoided as it is not a standard color for the human eye to read with.
Black is useful for sites that relate to photography and art.
Purple is used in religious sites and vacation sites.
You can also set your Header Effect to 3D or Plain as per your choice.

Note: You should Remove the Content from the Color CSS of your Site Box if you activate the New easy Color System of SIMPLIFY
Export/Import Theme Options
Yes, you can Backup/Export the Theme Options/Settings as a File. You can Restore/Import the Backup file again in later time. Users find WordPress default Export and Import features under WP-Admin > Appearance > Tools but those can Export/Import only the Posts/Pages etc. Theme Options/Settings can not be Export/Import from There. But You can Export/Import the D5 Creation Themes Options/Settings from the Theme Options Panel now.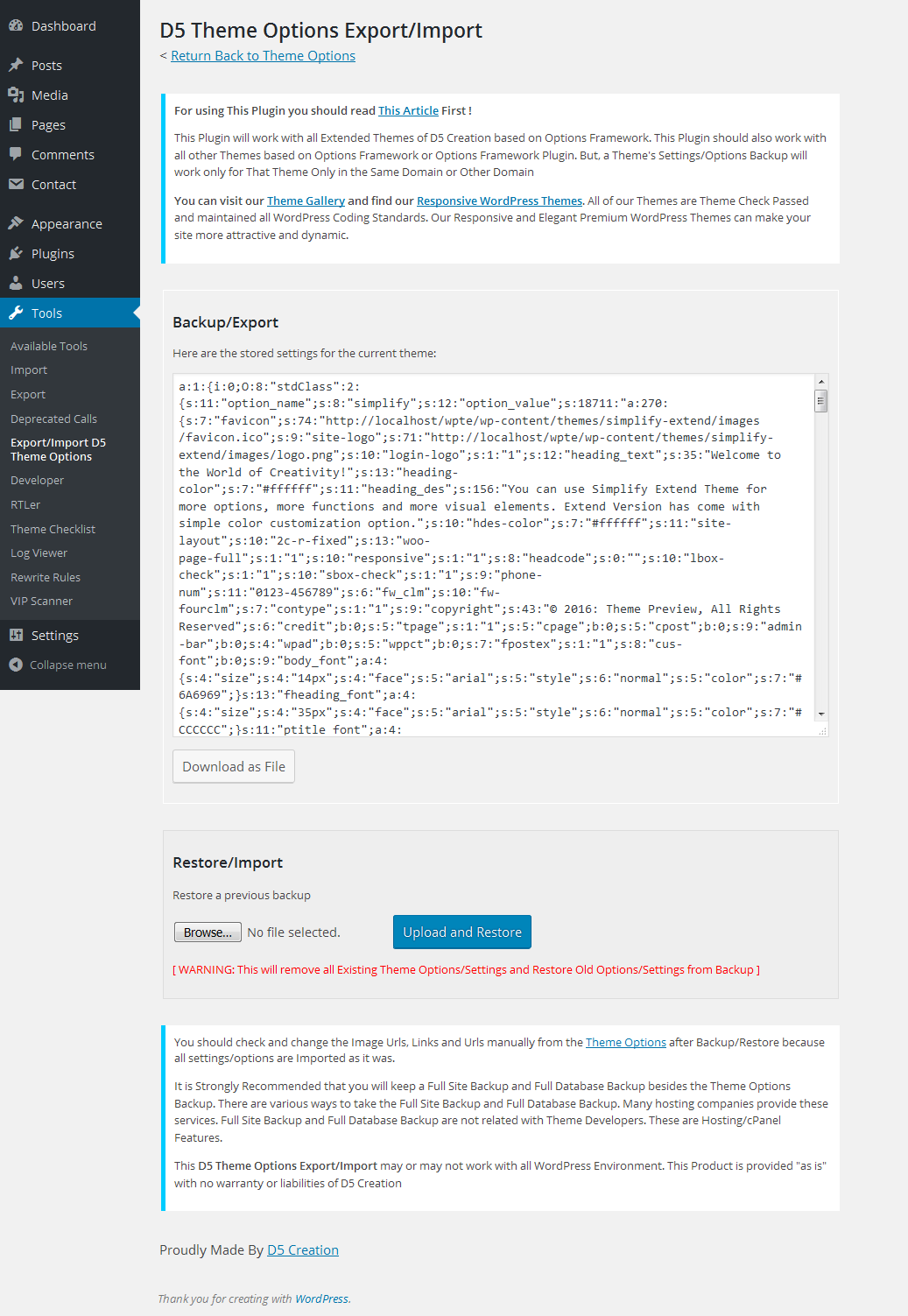 You may Require this feature, because
You may want to preserve a backup of your Theme Settings so that you can use that in case of any disaster of your site
You may want to move your site to one host to another
You may want to change your domain
You may develop your site in a Localhost and want to transfer the Site in Live Server
You may want to keep time to time changing Backup
Special Instructions for 3D Slide is no more Required
The Theme had Special Instructions for 3D Slider. Some of our users could not find that and faced problems for updating 3D Slide Images. That is no more required. Theme will handle the activities automatically. There are another 03 Slide Effects, too in SIMPLIFY Extend.
So, Update your site now with SIMPLIFY Extend. This Tutorial will help you updating your site.