KABBO, Family Theme Updated to 3.9 Version
KABBO, the best WordPress Family Theme has been updated to 3.9 Version. This is a Major Update and you should take some steps before updating your site with the latest version of KABBO Extend. The Free Version has also been updated and you can download that from the WordPress Theme Repository for KABBO Theme.
KABBO is not only for Family Sites but also can be used for all purposes. Business? Personal Blog? Portfolio Site? Image Gallery? Family Site? HTML 5 and CSS3 powered KABBO Theme is the right choice for you. Responsive Theme KABBO is super elegant and Professional. Front Page Sections can be Removed/Modified/Changed the Position easily from KABBO Options. KABBO Extend has come with exciting Post Options, Theme Options and Extra Functionalities with more than 100 Advanced Theme Options including Color/Width/Design Changing.
You should Copy the Code from the KABBO Options > Color CSS of your Site before updating to the New Version if you already made any change there. If you didn't make any change you need not copy the code. The Box is replaced with a New One. So you can copy the Code. But, we strongly recommend you to use the New Easy Color Changing Options.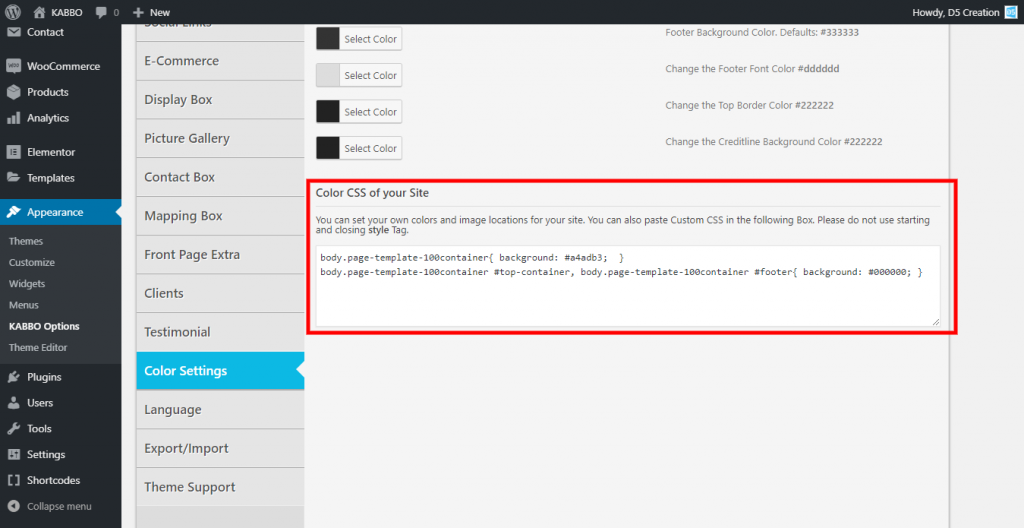 This New Version will provide you Literally Unlimited Opportunities, not limited to the following:
Header
You can change the Color of the Top Menu easily. Can Set the Top Menu Fixed of Scroll-able
The Logo Can be set to the Right or Center
You can add Language Switcher, User Login Box, Search Box, E-Commerce Cart Icon
The Header can be Transparent or Solid Background
Site Layout
Site Layout can be changed easily. You can set the Width up to 100% of the Screen
Can set Top-Bottom Margin, Left-Right Margin
Can Set Border Radius
Can change the Backgrounds to Solid Color or with Image and Color
Left or Right Sidebar or No Sidebar Option
Footer Color Changing Options
Every Portion of the Theme is Fully RESPONSIVE
Slider
Slider can be used to show any MP4 or YouTube Video
Can show only Images
Can show only Texts
The Background can be changed to any Solid Color or Image
Slider can show Contents from Posts or Pages or only Selected Posts/Pages
Featured Boxes
Featured Boxes are dynamically resized based on the Screen Size
You can set the Number of Featured Boxes and Number of Columns
Can set Different Color Backgrounds for Boxes
Can set the Image Radius of your Choice
Featured Videos
This is a New Section of this Version
You can show Unlimited Videos here including MP4, YouTube videos
Can set the Number of Columns
Can set the Width of the Box
E-Commerce
This Version is fully E-Commerce Ready by WooCommerce
You can show Unlimited Sections and Products
Can set the Colors differently for Separate Boxes
Can set the Number of Columns easily
Can make the products Centered
Display Box
Display Box can show your Information with necessary Links
You can change the Background to Transparent, Solid Color or Image
Can set Mask Color and/or Image
Blog Index/Posts/Pages
Can show the Blog Posts or Page with or without Sidebar
Can show only the Selected Posts/Pages
Can show Posts/Page as per the WordPress Reading Settings
Picture Gallry
You can show unlimited Images with Title, Description and Links
The Image will be Opened in Larger View with an Light-box
Can change the Colors easily
The Images will be rearranged automatically
Contact Box
Contact Box can show your Contact Information and Contact Form
You can change the Colors easily
You can add More Items from the KABBO Options
Map Box
You can show a Map Box in Front Page
You can set the Address of your Location
Clients and Testinomials
You can add Testimonial Person Name
These boxes are set flexible
Extra Boxes and Pages
You can show up to 11 Extra Box Content and up to 11 Page Contents in Front Page
These Extra Boxes can show MP4, YouTube Videos, ShortCodes, Forms, any HTML, JavaScripts etc. easily
The Pages can show any Page Contents specially Pages built be using any Drag and Drop Page Builder
Drag and Drop Page Builder and ShortCodes
Others
Almost every Color Can be changed easily. You can also add Custom CSS for any Items
This Version added Clean Code and Intelligent Structure
Security, SEO, Speed Optimization and New Technologies Introduced
Maintenance Mode can show Coming Soon Page. You need not install any Separate Plugin
You can add the Demo Content easily using the One Click Demo Import Tool
You can Enable/Disable every Sections. You can also Re-Order the Sections from KABBO Options
Search, Categories, Archives, Not Found 404, Comments Pages and Sections are redesigned with new technologies and ideas
Is KABBO a Family Theme ?
Most of our Users use the Theme KABBO as a Family Theme for their Personal Sites. We believe that peoples like this Theme for their Family Sites. But KABBO is not only developed as a Family Theme, but also designed for Multiple Purposes. It can handle your E-Commerce Site, Company Site, Corporate Site, Organization Site, School, College, University, Government Sites very easily. The Possibilities are Unlimited! Yes, Unlimited. You will love the Theme Features. These are Super Easy and User Friendly. You need not do any Coding. Just Configure as per your choice.
Family Theme KABBO
These are not the Full Lists which are added with This New Version. You will find more than these. All the necessary Instructions are Provided with the Theme Options Panel. You should update the KABBO Theme with this New Version as soon as possible.
This is the Theme Update Tutorial.