Why SEO is a Perfect Inbound Strategy for E-Commerce?
This article has covered the SEO Inbound Strategy for E-Commerce. You will also learn on more valuable things than SEO Inbound Strategy for E-Commerce
Inbound marketing is tricky, especially for eCommerce platforms. It's not always clear what the inbound strategy should look like, and how the products should rank. However, SEO itself can help you define what that strategy is, and how it'll pan out over time. That's because ranking and positioning yourself at the top of leading search engines is at the core of inbound marketing.
So, we can say that SEO is a requirement for inbound marketing to work the way it should. It truly is, especially when you consider vast eCommerce platforms like Amazon. When you look for a product on Google, the first thing that pops up is usually Amazon, or Ebay, or any other major online platform that allows third parties to sell products and make money online.
What if the second or third option was your website? Sure, not easy, but in a world where keyword segmentation is more and more relevant, you could well be ranking for niche products that no other platforms are selling. This is why SEO is a perfect inbound strategy for ecommerce, and it's also why you should definitely focus on SEO first rather than just inbound marketing.
SEO's Role in Your Inbound Strategy for E-Commerce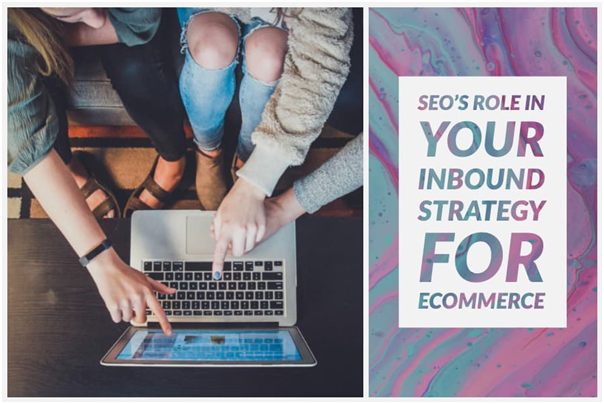 What's SEO's role in inbound marketing? What stage sets the need for the most SEO work? And how can you achieve results early on for your ecommerce platform? These questions are all answered when you consider your business first. It's not about keywords, it's not about ranking first on Google; it's about whether your business provides unique value to prospects or not.
In ecommerce, the product is the inbound strategy. Think about it; if people are interested in a specific niche of product, the main thing they will do is directly search for that product. On the other hand, it is true that people might not know that your product even exists. You have to create demand for such a product, and you do that by first ranking for the keywords that are trending.
Before going forward with any SEO work, you need a good branding. Your product will be the main attractor to any traffic, so it needs to portray a clear message when people land on your product page. Think about it from the client's point of view… They want to know the product's specifications, the branding behind it, what it looks like, its inception, and so on.
If you can't deliver on this first, then SEO won't help you with converting, or generally selling. As you position yourself into Google's SERPs (Search Engine Result Pages), you want the copy to be pristine, and you want to set up the entire inbound strategy with CRM (Client Relationship Management) software, call-to-actions, lead magnets, and a few more implementations.
Before you get to all of this though, your product needs to be the king of all other priorities. If you can get your product to look stellar, the rest will fall into place naturally. SEO's role in all of this will simply be to surface your product onto the crowds, and yes, they will love it. They'll be convinced that your product is worthwhile, and they'll click on your CTA to learn more or buy.
How to Implement SEO in Your Inbound Strategy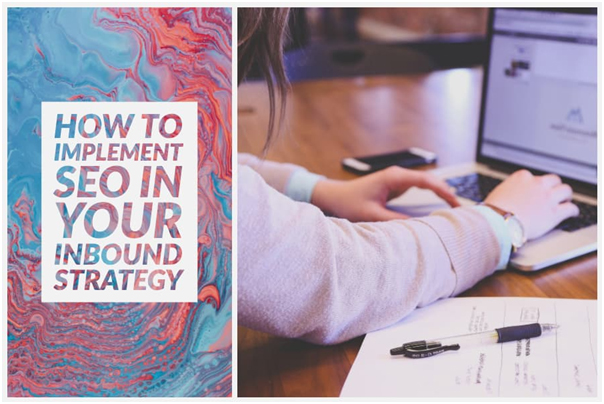 Generally, you want SEO to be the very first thing that's considered when creating an inbound strategy. This also means knowing how to create content that ranks. When you build your initial marketing strategy, there will be various tasks to complete. These can range anywhere from competitor analysis to keyword research to the brand's tone of voice.
However, two pieces that cannot be missing in any good SEO strategy are backlinking and outreaching. These two crucial aspects of SEO are essential to make things happen on your website… You don't want your content to be out there for nothing after all, right? That's when you should seriously start thinking about contacting fellow online workers to promote your content.
In ecommerce, you want to start building your content around the properties of your product. This could mean explaining a requested feature, going through the materials, etc. A keyword strategy will help you maintain everything under control. You will need to pull out a MS Excel or Google Sheets spreadsheet in order to do this. Competitive analysis plus keyword sheet equals ranking.
Then, once the content strategy is set, you will need to make sure that the website is ready to receive its first boost. That's because content will most definitely give Google the input to push your website out there in the wild, and you don't want that to happen if you're not ready for it yet; especially in ecommerce where traffic could mean quite a bit of sales if set up correctly.
Follow these steps closely:
Create a tone of voice for your brand and stick to it for all the content you will produce
Analyze your competitors via tools like Moz and SEMRush to see what they're up to
Create both a competitor sheet and a competitor report out of the tool's data
Filter the keywords and choose only the ones that are most relevant to your product
Do not underestimate keyword difficulty and search volume; they are both crucial
Create a keyword strategy using the filtered keywords and fill the data in your sheet
Create a full report explaining what that keyword sheet is meant to achieve
Optimize your website before you start creating more content on your blog
Give yourself a deadline for that initial strategy and push all the content out by then
For each blog post or product page that you create, try and do some outreach
Once every blog post is created, prepare for some "heavy" optimization
If you follow these steps closely, you should be able to start seeing the first results of your effort come in. However, it's important to note that the startup phase is tricky, and it will require some trial-and-error before you get things done right. Once you have pushed all the content out, there will be space for what's called A/B testing, allowing you to see what optimizations work best.
Going from Page Ranking to Converting Leads into Customers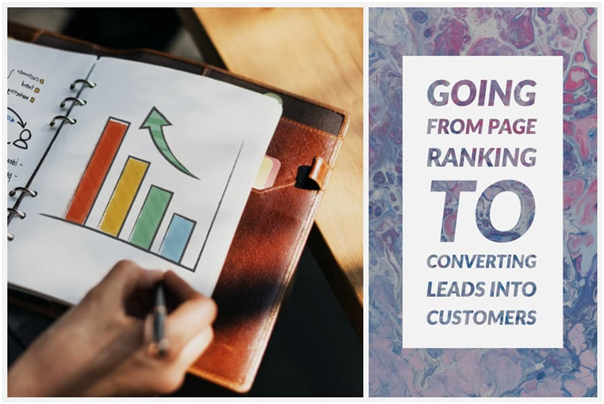 Ranking on the first pages of Google is neat, but it serves no purpose if you can't collect data from the visitors. Traffic itself cannot help you run your business; that's because it does not hold enough information for you to truly reach the prospect and ask them to visit your website again when they eventually leave. You will need to setup your lead generation strategy at this point.
In ecommerce, this is done in a few ways. For example, often enough people will put your product in the cart and proceed to the cart window, only to abandon at the time of paying. That's because the person is not ready to pay yet, they are not sure if they can trust you, and they'd rather wait before spending their money on a relatively unknown website. That's when you should attack.
Do not let that person go away without first creating an account, or at the very least giving their email address. If you let them go before that, they're lost in the nether of the internet and you won't be able to track them down. However, if you do set up a correct lead generation strategy via your CRM software, you will be able to track them, and see what they are doing online.
This is much less spooky than it sounds. No, you won't be able to see exactly what they see, and you won't get to know each website that they visit. However, you will be able to track their email, their interactions with your website, and much more. In general, you want to have control over lead data, and that happens via the CRM. In ecommerce, it's especially important to have a so-called "exit popup," allowing you to display a quick message before the person leaves the store.
Prompting people to enter their email address just before quitting usually works very well, because it takes the stress of actually looking for the product again away from the person's hands, making it easy to contact them and reminding them they have the product in their cart. You will be able to connect each product to person's IP address via the cookies that your website installs on the user's computer, making it easy to know he's back once you send that email shot.
Optimizing the Buyer Journey and Completing the Inbound Strategy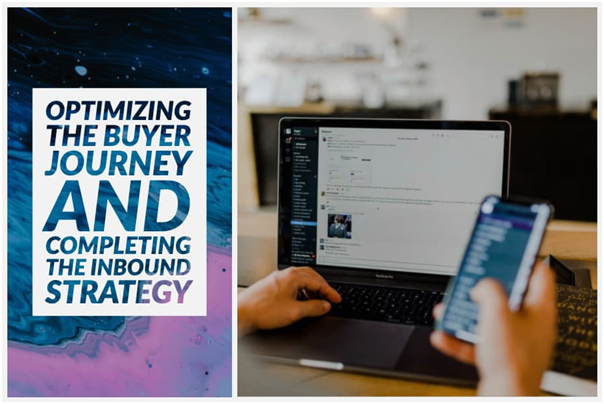 The buyer journey will look something like what we've described above. However, the inbound strategy still needs to be completed before we can reiterate the process of analysis, research, and content creation. Exhausting the options of a certain keyword set (the keywords found in your keyword sheet) is the only reason why you should go on to newer, better things.
Before you do that, you have to optimize the experience for people who are already coming into your website. You don't want them to leave after all, and next time you create a wave of content, the newer prospect will be more likely to stay. Completing the inbound strategy means taking a step back and looking at the data that you've gathered so far via Google Analytics.
This is an important step that should not be underestimated. If you only do SEO and build content, you will simply rank (and not for long). If you only optimize the website copy and buyer journey, you will only (maybe) convert the few people that are already on the website. If you only do outreaching or email marketing, nobody will take you seriously because the content will be poor.
You need to look at the data, and go from there. That's when you know you can close the circle and optimize accordingly, making your already-published content even better than before. Once this is done, you can finally create a new keyword strategy and push everything out again, just like you did in the first place. That's the key to a good inbound strategy for eCommerce platforms.
Need more than SEO Inbound Strategy for E-Commerce ?
D5 Creation Blog Section has tons of valuable articles including SEO Inbound Strategy for E-Commerce and various other SEO and Web Design/Development issues. You can read those articles. D5 Creation has World Class Responsive, Premium SEO Friendly WordPress Themes. You can find their Free Versions, too. Please lets us know your if you want to read more articles like this SEO Inbound Strategy for E-Commerce