A Simple Guide to Creating a Multilingual WordPress Website
Expanding the market can be a very smart move for any business owner who is ready to spread its reach. In order to connect with the foreign audience, you'll need to adapt your website to different languages.
Are you ready to take this step and expand your business's global reach? Then you'll need totranslate your WordPress site to multiple languages. In this article, we will show you how to do this but first, let's start with why is creating a multilingual site so important.
You can read This Article First for D5 Creation Themes.
Reasons to Create a Multilingual Site
Even though the English language has become somewhat a universal language of the world, there are still many people who haven't mastered it yet.
There are some who can understand English and use it for everyday conversation but when it comes to business, they'll want to understand every aspect of what you have to offer.
Globally, 72% of customers are more likely to buy products or services if the information is in their language, according to the Common Sense Advisory. In addition, 56% say finding brand information in their language is more important than price.
You shouldn't let the language barrier to be a stepping stone in your path to expansion. Especially if you consider how easily you can turn your website into a multilingual site.
When it comes to foreign markets, your website will be representative of your business.
It can seem expensive and time-consuming to start this venture but investing the money and energy in re-creating your content for other regions will maximize your profits.
Just think about it. Instead of connecting with a few new customers in your current region, you'll be able to reach an entirely new region of customers.
Improving User Experience
It is not just about accessing different markets and exploring foreign regions. The multilingual website will also help you to improve your user's experience.
Good user experience and customer service are definitely one of the main predispositions for the success of any business in any industry. Your customers are the ones who provide you with the means to develop and persist so you should always keep them in mind.
By translating your website, you will not only reach out to new regions but you will also help out the potential customers in the current one.
Even if your main market is an English-speaking region, there are still many non-native English speakers there as well. According to 2017 figures compiled by Internet World Stats, of the nearly 4 billion global daily internet users, just 25% are English speakers—and over half of all Google searches are in a language other than English.
Your potential customers will certainly appreciate being able to access your site and inform themselves in their native language.
Adding multilingual features will not only improve their experience but will also change the way they perceive you.
However, before you start with this project, you need to figure out which type of plugin you would like to use.
Two Types of Multilingual Plugins
The best and the easiest way to translate a WordPress website into multiple languages is to install a multilingual plugin. Typically, multilingual plugins come in the following two types:
1. Auto-translate:
As it is pretty self-explanatory, these plugins rely on online translation services to convert your website content into desired languages. In this case, translations are provided at the click of a button. While this is the easier option, you should bear in mind that automated language services haven't fully mastered the nuances of modern language so the translations are not as reliable as in self-translation.
2. Self-translate:
With this type of plugin you will be required to translate the content yourself.  You will need to write your content in your preferred language, then rewrite it in an additional language. This is a more time-consuming option but it is by far the highest quality translation. In case you are not fitted to translate the website yourself, you can hire someone to do website localization for you.
Now, we'll present to you one plugin of each type and how it is used.
Using the Google Language Translator Plugin
The Google Language Translator WordPress plugin uses Google's database to translate your website into a variety of languages. This is an auto-translation service and it is the most popular plugin for this type of translation.
The first thing you need to do is install and activate the Google Language Translator plugin. Upon activation, go to Settings > Google Language Translator to configure the plugin.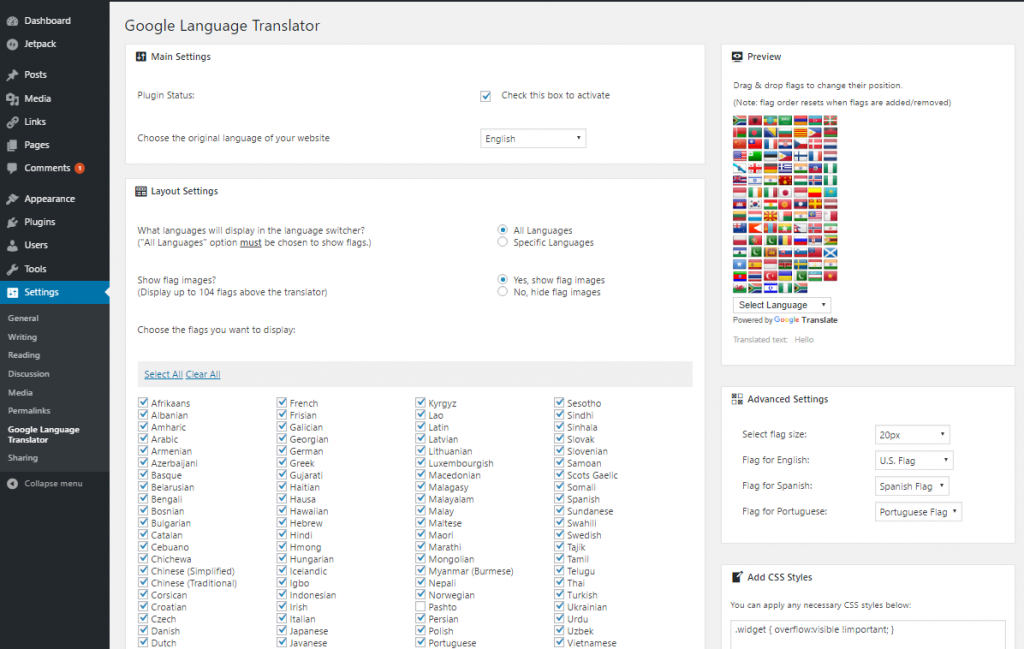 During this process, just make sure that the checkbox next to plugin status is checked.
The next step is to select your website's default language and the languages you want to be available for translation. Once you are done just save your plugin settings.
After saving the settings for Google Language Translator plugin, go to WordPress> Appearance > Widgets and then drag and drop Google Language Translator widget to your blog's sidebar.
Now just save your widget and preview the Google translator on your website to see how it looks.
As you can see, it is very simple and accessible. In addition, it is also fully customizable meaning that you to change the language switcher width, text color, background color, and much more. Even though the default setting includes Google branding, you can remove it if you wish.
Using qTranslate X Plugin
When it comes to self-translation plugins, one of the best and most popular options is qTranslate X plugin.This is one of the most frequently used translation plugins because it makes it super easy for you to generate your content in different languages.
It provides one-click switching between the languages on admin editing pages so the users are able to organize their work in a matter of minutes.
Before qTranslateX there was a qTranslate version. This was one of the top multilingual plugins on the official WordPress repository but with time, they stopped making the necessary updates and in 2015, the plugin was shut downand removed from the repository.
qTranslateX is qTranslate's successor and it's already proving incredibly popular. There are so many new features and functionalities that there is barely any trace of the original qTranslate.
In order to set up this plugin, you need to go to Settings and choose the tab Languages. Here you can enable all your desired languages.qTranslate X comes preconfigured with language codes for 25 of the most widely spoken languages.
When you want to set up a multilingual menu you'll need to go to Appearance > Menus. There you will see buttons with flag and language name. You can easily switch them and edit menu items for any language that you want. A big advantage is that you won't need to copy the menu for every language.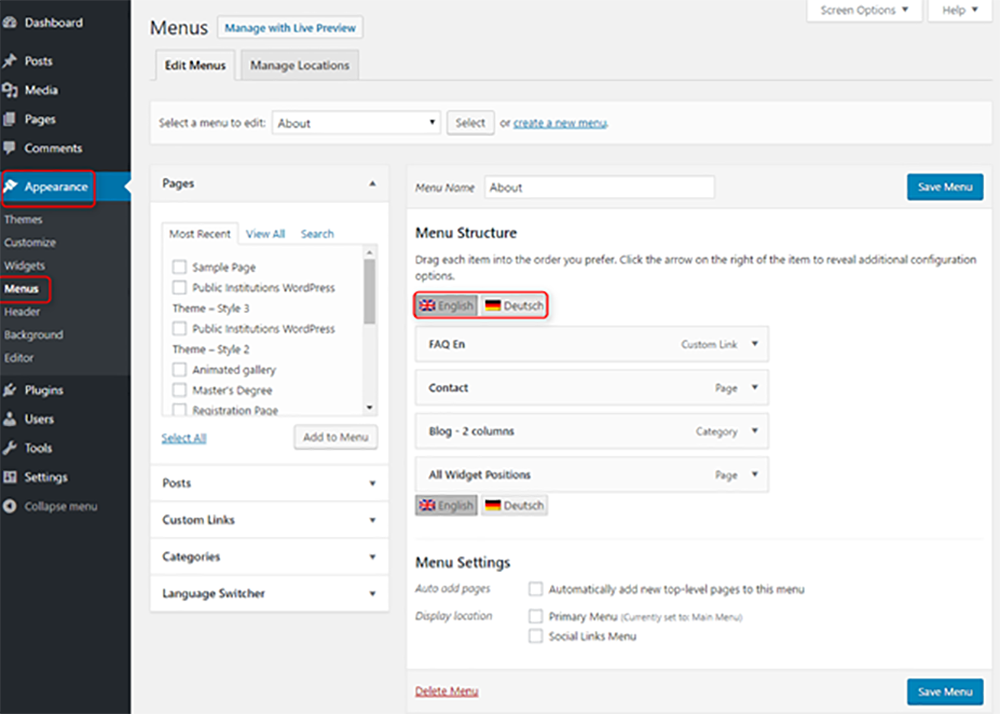 For setting up the multilingual content (posts, pages etc.), just go to Posts and click on the post which you want to translate.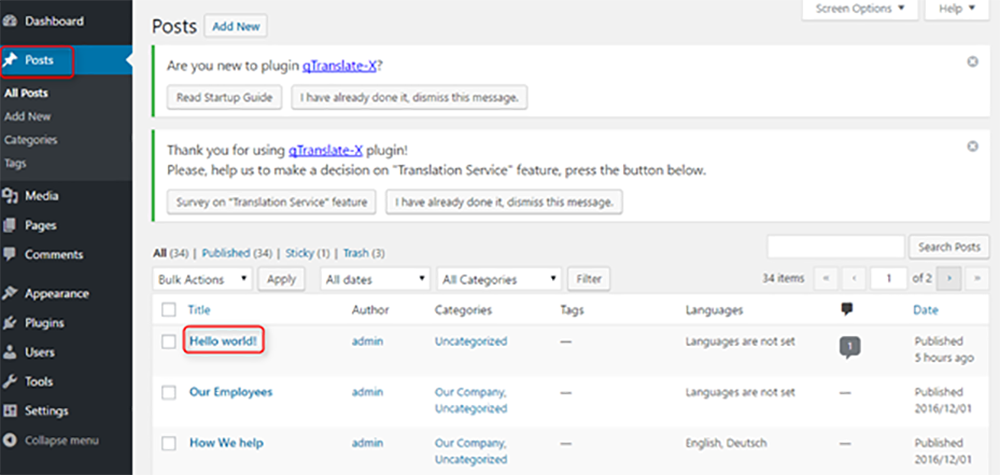 You can then switch between language flags and edit title and description. When you are done, just click Update.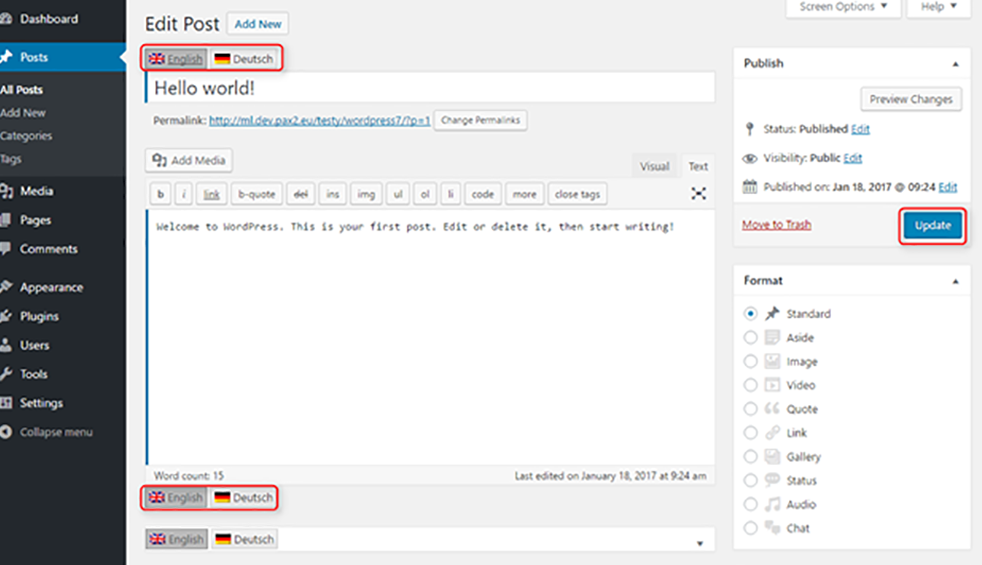 Over to You
Now that you have seen how simple it is to set up a multilingual site there will be no more room for excuses.
Hopefully, this simple guide will motivate you to improve your services and adapt your website so that people all around the world can get to know you and your business.